December is upon us and that only means one thing… a new Doctor Who Christmas Special! Yes, this upcoming December 25th sees us once again joining the Doctor (Matt Smith) on another adventure, this time involving among many other things – evil Snowmen.
The Christmas Special will also have us meeting some old acquaintances from the Doctor's previous adventures, namely Madame Vastra (Neve McIntosh), Jenny Flint (Catrin Stewart) and Commander Strax (Dan Starkey) as well as a brand new one: the woman who will be the Doctor's new Companion, Clara (played by Jenna-Louise Coleman). 
Richard E. Grant will also be in the episode playing Dr. Simeon, the episode's antagonist. Grant has been in Doctor Who lore before, playing the Doctor twice in previous roles: the first being an alternative Tenth Doctor in the Steven Moffat-written charity sketch Doctor Who and the Curse of Fatal Death, and the second being an alternative Ninth Doctor in the animated Doctor Who short Scream of the Shalka.
In the lead-up to this very exciting episode, the BBC website has created an "Adventure Calendar" for the story – each day updating it with a new link to Doctor Who-related media, helping build hype towards the new special.
As of the 2nd December there have been two windows opened: the most recent being a link to five very cool Christmas Special-related computer wallpapers, and the first window revealing a video with new Companion Jenna-Louise Coleman talking about the process of being cast as Clara, the new Companion.
An embed of the video can be found below: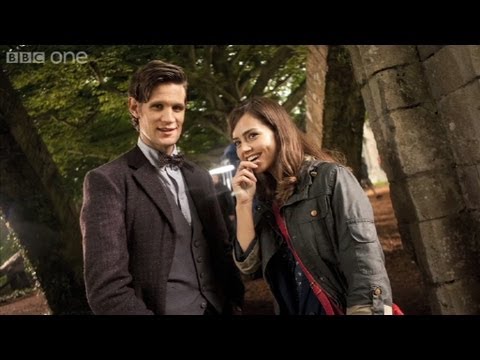 Pretty cool stuff. Make sure to keep coming back to the Doctor Who Adventure Calendar every day this month to find more videos, galleries, exclusive clips and more! It is certainly a nice way to get a daily Doctor Who fix before the inevitable brilliance that will be the Doctor Who Christmas Special this December 25th!

The Snowmen – The Doctor Who Christmas Special this year – is the seventh episode of Series 7. It will be on BBC One on December 25th 2012. It is written by Steven Moffat and directed by Saul Metzstein, and it stars Matt Smith, Jenna-Louise Coleman and Richard E. Grant.

You can find the rest of the Adventure Calendar right HERE!

<