There has been a way of thinking in regards to Star Trek movies – Most fans would argue that the even-numbered Star Trek movies (like Star Trek II: Wrath of Khan) are superior to the odd-numbered Star Trek movies (such as Star Trek V: The Final Frontier).
However, this logic appeared to not be as plausible once the J. J. Abrams-directed reboot Star Trek was released in 2009. The eleventh Star Trek movie, Star Trek was a cinematic reboot to the series that introduced an entirely new cast to play the iconic characters known and loved from the original series. It also happens to be a fantastic movie.
One could argue that the Star Trek reboot is unique from the odd-numbered "curse" as some fans have labelled it. The movie is indeed set in an alternative reality to the timeline of the previous movies and TV shows. So it comes to this, the sequel to the 2009 brilliance of Star Trek: Star Trek Into Darkness.
And it looks brilliant.
The announcement trailer was released today, giving us a look at the sequel set for release in May of next year. If one is to apply the odd/even-numbered logic, Star Trek (2009) may indeed be the lesser of the two, but only because Star Trek Into Darkness looks really promising. The trailer can be watched below.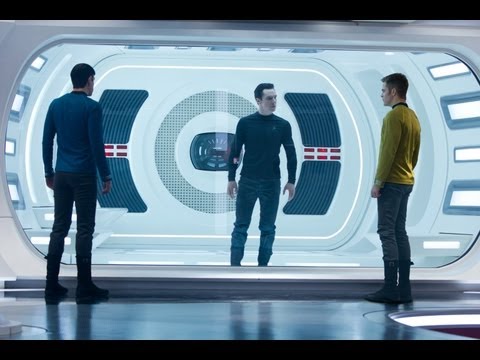 As you can see, pretty cool stuff. The voice heard in the trailer is Benedict Cumberbatch of Sherlock fame, playing a character constantly rumoured to be the reboot version of Khan, the titular iconic villain from Star Trek II: Wrath of Khan. Khan or not, it certainly looks like Cumberbatch is to play a formidable foe, a turn that is certainly interesting to look forward to.

The rest of the cast is just as promising, bringing back the cast from the previous movie as well as casting many new characters with great actors like Noel Clarke and Alice Eve (the latter seen a few times in the trailer). Even the video game industry's favourite voice-over artist Nolan North has a role in the film, whether it's a voice or a live-action character has been yet to be seen.

This trailer is full of so many visually stunning locations and effects, which makes for one very interesting movie. It looks to be yet another hit for both the Star Trek motion picture franchise and the box-office. Everyone should check this out when it comes out, even if you're not a hardcore Trek fan why not boldly go and watch it in the cinema. It looks to be a heck of a ride.

Star Trek Into Darkness is set for a May 17th 2013 release date. It stars Chris Pine, Zachary Quinto, Zoe Saldana and Benedict Cumberbatch and is directed by J. J. Abrams. It is written by Alex Kurtzman, Damon Lindelof and Roberto Orci and it is produced by Abrams, Kurtzman, Lindelof, Orci and Bryan Burk.

<