It's official, Assassin's Creed IV hits the UK on the 1st of November. I'm sure most of us were expecting a continuation, like Brotherhood and Revelations but no, it's a "fresh start" apparently. This story takes us back to Connor's grandfather, Edward Kenway (father of Haytham who you played as for a large portion of AC3) and he's not only an assassin, but a pirate!
Developers Ubisoft are describing Assassin's Creed IV: Black Flag as a large, open world, naval adventure. It's a sandbox where the only sand is on the beach (I apologise for that awful joke, it won't happen again)! Players of AC3 will remember the naval missions but they were, for the most part, optional.
While I'm not a huge fan of ships in games, the naval battles were something I tried to avoid as much as I could. And apart from the odd tutorial I managed to play the game with my feet mostly on the solid ground.
This time however, the naval parts of the game will tie in more closely to the main action, what with this being a game about pirates after all. Most of the exploration will happen over seas rather than on large stretches of land. But if the trailer and the latest screenshots are anything to go by, we'll still get to go exploring seaside towns, dense jungles and mayan ruins.
A new game mechanic has been revealed to go along with the spruced up naval exploration. Edward will have the use of a spyglass to judge which ships are safe to board, which ships need attacking or which ships want leading in to a storm. The spyglass will also be used to check islands to see which ones you've already been to. Apparently there are going to be about 50 distinct locations so that's a lot of places to keep track of.
Spoiler Warning. If you reached the end of AC3, you might remember that Desmond's story is sort of over. Well now you play the game as… yourself. This time around you're an employee of Abstergo having a go in the Animus. Thankfully the present-day supporting cast are supposedly back, but quite how that will work we're not sure yet. Hopefully there will still be missions to complete and mysteries to solve in the modern day setting.
Assassin's Creed IV: Black Flag will be available on the PS4, PS3, Wii U, Xbox 360 and the PC. There's no solid news on what the next-gen features might be (if any) other than the fact that they're "pushing the visual bar."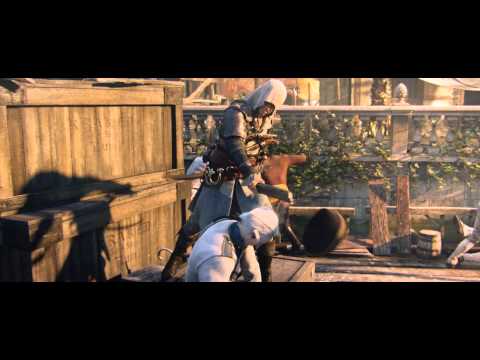 Source: Escapist

<