Directed by Jamie Payne
Written by Neil Cross
Starring Matt Smith and Jenna-Louise Coleman
Luther showrunner Neil Cross returns to write a second episode of Doctor Who this series and boy is it a great one. Hide seeks to combine the usual Doctor Who formula with a ghost hunt and it is a match made in heaven.
The Doctor (Matt Smith) and Clara (Jenna-Louise Coleman) find themselves in the 1970s in a seemingly haunted house. They stumble upon the ghost-hunting work of Professor Alec Palmer (Dougray Scott) and Emma Grayling (Jessica Raine), a psychic. The two of them are currently seeking a ghost known as the Witch of the Well, and the Doctor and Clara decide to help them out, especially discovering how the ghost might be more of a mystery than they first assumed.
Hide is a fantastic episode that is a great follow-up to last week's, Cold War. Much like that episode, Hide does well to create an immersive atmosphere and tension that is a joy to watch. To see the Doctor and his companion go through the tropes of a ghost story in a 'Scooby-Doo with time travel' sort of way is very entertaining and engaging. 
It is also not just a great experience for the adventurers, but the episode is also a brilliant character piece, especially for Clara. Hide does well to accent some of the realities companions face and how that reverberates through the Doctor as well as building on the mystery of Clara and why things are different with her. A real highlight of the episode is Clara's continued conflict with the TARDIS, which has seemingly locked Clara out and disagrees with her.
The episode also does well to showcase more of the Doctor and Clara's brilliant chemistry and the back and forth between them. The Doctor is still far from knowing the real mystery behind her, but the two of them are certainly enjoying their time together, even if Clara still has much to learn. They share funny moments, witty moments, and even heartfelt moments here, and hopefully the rest of the series doesn't lose pace. The entire Doctor and companion relationship this half of the series trumps the previous half, so hopefully it rises to a crescendo.
Perhaps the real highlight here is the guest stars. Both Scott and Raine play wonderful 1970s-era people, their will-they won't-they chemistry established very early on and used very effectively throughout. Scott transforms into his role of someone with a rich background during the war dead-set on making a discovery that wouldn't be stolen from him, and Raine portrays a brilliant young psychic of whom all emotion and energy is channelled through her. Together they play a believable team who care about each other, both professionally and otherwise, and at times their story is more of a hook than the Doctor's and Clara's which is a rarity for one-episode characters.
Director Jamie Payne does a brilliant job creating a haunted house aesthetic. The uses of light (or lack thereof) and the many scenes reliant on the Doctor and/or Clara holding a lit candelabrum generate visuals perfect to the tone and setting, which helps accentuate each scene. Candlelight and shadows are abundant in Hide, and rightly so. Not only do they create a brilliant atmosphere, but also the editing around those visuals alongside glimpses of what waits in the dark create a brilliant amount of tension. 
The entire episode is just a true highlight. It has so many elements that make for a great episode of Doctor Who: Doctor and companion chemistry, simple and entertaining explanations behind how time and space works, effective guest stars, a brilliant setting, a concept that blends with the Doctor Who formula and so much more.
Neil Cross should definitely return to write more episodes in future, because he manages to write the characters really well. Between this episode and The Rings of Akhaten we have seen brilliant sides to the Doctor and Clara. All that's missing from Cross is the writing of a brilliant antagonist. Once again Hide lacks that in Cross' writing, but the episode really isn't one for a strong villain. It's just a brilliant character piece that is hung on tension and atmosphere, and it delivers in spades.
It is really satisfying to see this string of good Doctor Who episodes cropping up, and if the Clara and TARDIS conflict incident was any indication, next week is going to be a doozy.
They're travelling to the centre of the TARDIS.
Hide premiered on BBC One on Saturday 20th April 2013. It is available on BBC iPlayer, and Doctor Who will return next Saturday 27th April 2013 with Journey to the Centre of the TARDIS.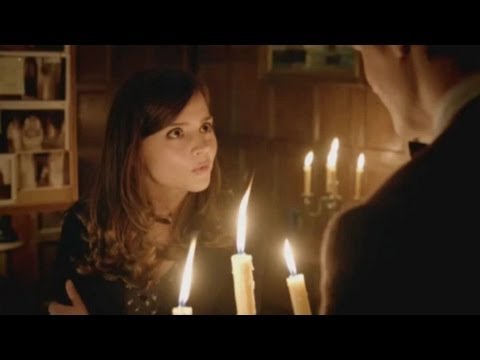 <