Oh my glob, the day has arrived. It was recently announced yesterday that Finn and Jake will be coming to PC and consoles in their latest adventure entitled Adventure Time: Explore the Dungeon Because I DON'T KNOW. A YouTube video was also uploaded that shows brief gameplay footage, accompanied by an 8-bit soundtrack and a few words from the cast. For those who haven't seen Cartoon Network's brilliantly bizarre cartoon, it follows Finn the Human (Jeremy Shada) and his brother Jake the Dog, (John DiMaggio) who can change into almost any size or shape, as they explore, quest and protect the magical land of Ooo from evil. This game will not be a direct sequel to 2012's fantastic side-scrolling Zelda tribute, Adventure Time: Hey! Ice King, Why'd You Steal All Our Garbage? for the 3DS, but a dungeon crawler with multiplayer capabilities that will allow for groups to play as their favourite character from the series. 
In the last title the retro style was a great addition to the game, and with all the features you'd expect from an old school dungeon crawler present here including stat upgrades, goodies to be found, boss battles to fight and story twists to discover as you go deep below a secret Keep in the Royal Dungeon. There will also be a lot to discover for fans of the series, with Finn, Jake, Marceline, Cinnamon Bun and more available as playable characters and the voice actors of the show all lending their talents to the action-packed explorer extravaganza. Another good sign is that the show's creator Pendleton Ward is on board and promises a twist that will impact the whole of the Adventure Time universe. Explore the Dungeon promises to be a light-hearted adventure game with plenty of the show's quirks and even more to explore. For any fan of the series or just any fans of old school gaming fun, this game has what it takes to be a winner, so come grab your friends to play the most anticipated game in Ooo!
Adventure Time: Explore the Dungeon Because I DON'T KNOW is coming for PC, Xbox 360, PlayStation 3, Wii U and Nintendo 3DS in Autumn 2013.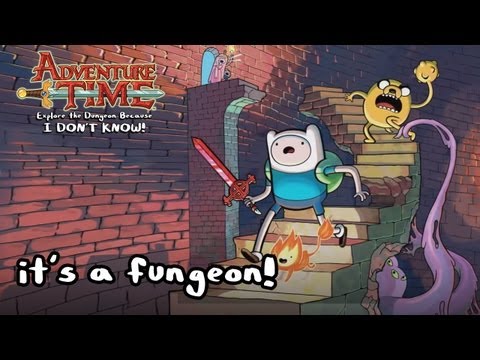 Sources: Namco Bandai, Destructoid

<