Now that all the excitement of the 50th Anniversary is finally over, Doctor Who fans will already be looking forward to the next episode just waiting to fill the Doctor-shaped hole in their lives. Fortunately, the BBC aren't keeping us waiting too long for information, since today, along with two first-look pictures, a short synopsis for the upcoming Christmas special was released.
Set to be Matt Smith's final episode, this year's Christmas episode will be called The Time of the Doctor, and will introduce Peter Capaldi as the Doctor's next incarnation. Check out the official synopsis:
"Orbiting a quiet backwater planet, the massed forces of the universe's deadliest species gather, drawn to a mysterious message that echoes out to the stars. And amongst them – the Doctor. Rescuing Clara from a family Christmas dinner, the Time Lord and his best friend must learn what this enigmatic signal means for his own fate and that of the universe."
As is implied here, we know from the first trailer (below) that the Doctor will be meeting up with some old enemies, including Cybermen, Daleks, Weeping Angels and The Silence. We also know that the episode will see the Doctor return to Trenzalore, and that at some point it will feature a large, ominously ringing bell. So much for the easy part.
Search a little harder, however, and you might notice something odd about the flames surrounding the Doctor in the promotional images. It appears that there are obscured faces hidden in the fire, which Kasterborous has identified as belonging to Peter Capaldi and Paul McGann. The latter will almost certainly come as a surprise to many, and may yet prove to be a mistake, but whoever the faces belong to, a close inspection of the pictures proves they're definitely there.
Take a look at the full-size versions of the images here and here to make up your own mind, and let us know your thoughts in the comments below.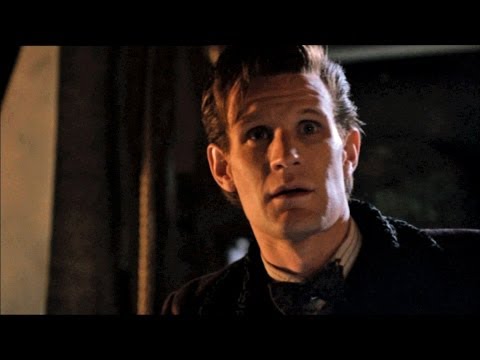 Sources: The Radio Times | Den of Geek | Kasterborous

<