Hey everyone! I'm Miyuukihime and my job is to review products which are sent to me. 
The following products were sent to me by a store named Retr8Bit. Now, this store is run on Etsy, which is an online sales place for those who are wanting to get their creations out there. Retr8bit are located in Leeds and sell Hamabead creations, accessories and jewellery. Upon looking at the store you can see that there is so much talent – I would say that those interested in gaming would be the main audience as that's what a lot of their products revolve around. You can find products inspired by Super Mario, Pokémon (which I'm a big fan of ), The Legend of Zelda and more! They even have Wreck-it-Ralph products. The prices of the products vary though. The 2D products range from £3.00 to no more than £15.00, whilst the 3D products can go up to around £25.00. However, what is good about this store is that they do ship internationally, so if you're reading this and you're from outside the UK, you can still get you hands on one of their creations.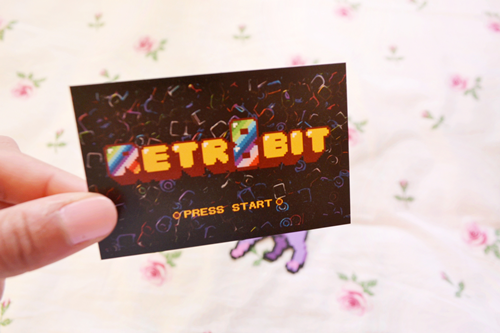 Now the store owners of Retr8Bit let me choose out a few products from their Etsy. My parcel arrived a few days after I was told it had been sent out. With my items I received a business card which had been designed to match their store; I was very impressed! 
The first item I chose out was this Espeon Sprite. On the site it is listed as one of the 'Hama Eveelution Sprites', so that's right, they do them all (apart from Sylveon). The Eeevee Sprite costs £6.99 on its own and then for the Evolutions it is £9.99 each. If you're wanting the full set then it's £69.99! I chose Espeon as it's one of my favourites of them all. The Espeon Sprite arrived in a separate parcel from the other item I chose. That's because they were different shapes, so it was best to pack them differently to prevent damage. This sprite came in a flat envelope made of card. The flatness of the envelope made sure that the item didn't bend or break and it was labelled as 'Fragile', which I like as sometimes parcels can be knocked about and damaged. As for the design, I cannot fault it whatsoever; the design is clear as to what it's meant to be and the beads have been placed neatly. On both sides it's flawless and smooth. The only thing I'd be worried about is the thickness of it – it's actually quite thin and because this is one of the bigger pieces it's a bit more weighty as well, so I'm having to be super careful when handling it so it doesn't snap. But overall I'm very pleased with the product, you can tell time and effort was put into this!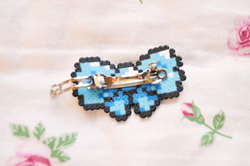 For the next product I chose the 8Bit Hama Bow Hairclip. I saw this and thought it was absolutely adorable! These are listed for £4.99 and come in a variety of colours; light blue, blue, red, dark red, grey and violet. I prefer lighter colours and wear a lot of pastels so I chose the lightest blue as it matches my style more. This arrived in a box, instead of being put in the envelope. It was wrapped in bubble wrap also to prevent damage. As for the product it is exactly what I imagined. It matches the photo on the website perfectly and is really neat. On the back you can see that attached to the Hamabeads is a hair clip. The clip itself is strong and is attached to the bow securely. Once again I'm really pleased with this product and think it's perfect! 
Overall I've had a good experience with Retr8Bit and would recommend them to those who are interested in games. If you want to keep updated with them you can go and follow their Twitter or give them a like of Facebook. They will also be at the upcoming MCM Birmingham Comic Con (22nd – 23rd March), so you can visit them in person.

<