What happens when you bring the UK's largest anime distributor together with a game industry giant? Lots of exciting announcements, of course!
Visiting MCM Birmingham Comic Con to talk us through their upcoming releases and to answer all your anime-related questions were Manga Entertainment's Jeremy Graves and Andrew Hewson, later joined by Joseph Walsh from the Bandai Namco UK team for a look at some anime-inspired games.
To start things off, a couple of trailers were shown, beginning with the UK trailer for One Piece: Strong World, the tenth film in the One Piece series. Along with the first nine films, Strong World will be available here on DVD and Blu-Ray from Monday 30th June. So far, only the eighth movie has been dubbed into English: the others, which will only be available in Japanese with English subtitles, have yet to be released in any English-speaking territory.
Though an exact date has yet to be confirmed, Manga's second announcement was that a new set of Ghost in the Shell original video animations will be coming to the UK soon. In addition, to coincide with the franchise's 25th anniversary this year, you'll be able to get your hands on a special edition HD Blu-Ray steelbook of the original Ghost in the Shell movie. 
Finally, we were treated to a trailer for Part 1 of the hugely popular Attack on Titan series, which will be released on DVD, Blu-Ray and Deluxe Collector's Edition Blu-Ray on Monday 15th September. In addition to extra box space for Part 2, the Deluxe Edition will include a 20-page information booklet and a bonus DVD featuring over 100 minutes of extras. Manga anticipate that, if all goes well, Part 2 should also become available before the end of this year.
A short Q&A session followed, with audience questions about possible DVD release dates for other hotly anticipated titles including Evangelion 3.0, Psycho-Pass, Sword Art Online Season 2, Digimon and A Certain Magical Index Season 3. Only the first two of these are likely to emerge this year, and details have yet to be confirmed for Psycho-Pass. Initially scheduled for this month, meanwhile, the release of Evangelion 3.0 has now been postponed until August due to a knock-on effect from delays in the US.
Joseph Walsh from Bandai Namco then joined the panel to talk about two new game trailers. The first of these was for Short Peace, a truly unique-sounding package containing four anime shorts and a video game which follow a single story through different time periods. One of the films, Possessions, was nominated for an Oscar at the 86th Academy Awards, while another, Combustible, won Grand Prize at the 16th Japan Media Arts Festival. Also included are Gambo and A Farewell to Weapons, as well as the PlayStation 3 game itself, Ranko Tsukigime's Longest Day.
In Short Peace: Longest Day, players take on the role of Ranko Tsukigime, a schoolgirl by day and assassin by night who is hunting for her father while under threat from an enemy organisation. Developed by Katsuhiro Otomo (Akira, Steamboy), it takes the form of a side-scrolling running game, with the player character "always being chased by something". A particular "super-psychedelic" level was mentioned, which features a bizarre assortment of enemies and explosions based on Japanese art.
So far, there's no precise release date for the Short Peace collection, though it is scheduled to come out this Spring. It is currently available to pre-order from GAME, along with an exclusive, limited edition artbook. You can check out the trailer for yourself below: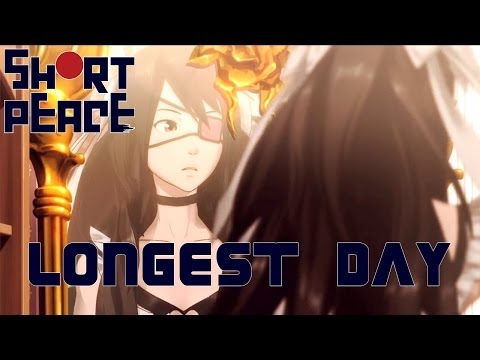 The second game trailer was for JoJo's Bizarre Adventure: All Star Battle, an energetic-looking PS3 fighting game with colourful, comic-book style graphics. Based on one of the most popular and influential manga/anime series of all time, this game has already generated a considerable buzz amongst fans of JoJo's Bizarre Adventure. Its narrative will cover all eight "chapters" of the original series, including the final part which has yet to be completed. The UK release of the game will also feature a whole new arcade mode, where players can fight their way past different characters to see a special ending. By pre-ordering with GAME, you can also obtain two downloadable characters – Kira or Killer Queen and Yangu or Shigechi – as special bonus gifts.

Photographs by Caitlin Jenkins

<