20th Century Fox has released a new full-length story trailer for this summer's Dawn of the Planet Of The Apes. It has been around five months since the release of the film's first teaser trailer and it is safe to say that the new trailer is not monkeying around (excuse the pun).
The trailer dives right into the centre of the plot. Set ten years after the 2011 prequel Rise of the Planet Of The Apes, this summer blockbuster sees the return of Caesar (Andy Serkis) as he and his genetically enhanced family of apes have evolved and taken over from humans, who have been fighting the deadly virus that was released at the end of the last film. The virus has left Earth in a sorry state, and the apes now control what is left of it.
Caesar has apparently created a peaceful home for himself and his fellow apes, but all of that is about to change as a pack of angry, scared humans led by Dreyfus (Gary Oldman) threaten the apes, bringing both species to the brink of war. However, a few select humans, including a nurse named Ellie (Keri Russel) and an archeologist named Malcolm (Jason Clarke), want to protect the apes. Malcolm seems to form a special bond with Caesar and he sets out on a journey to find his own 'inner ape'.
This is the eighth motion picture in the Planet Of The Apes franchise and this trailer suggests that the film will be much more ape-centric than the previous movie. The trailer poses the question of whether humanity and the apes can coexist. Though it's fairly obvious what the answer is, it will still be a very entertaining and interesting experience to see how the war will be portrayed in this reboot sequel.
The trailer boasts a lot of explosive imagery, some well designed visuals (the shot of the army of apes on the horses is brilliant) and some very emotional character development. We can see from this trailer how much Caesar cares for his family and that he can even sense a small seed of hope in humanity in the form of Malcolm, which is really quite touching. This is set to be a huge summer hit, with plenty of sci-fi action, breathtaking visuals and hopefully a lot of interesting characters. Check out the trailer below: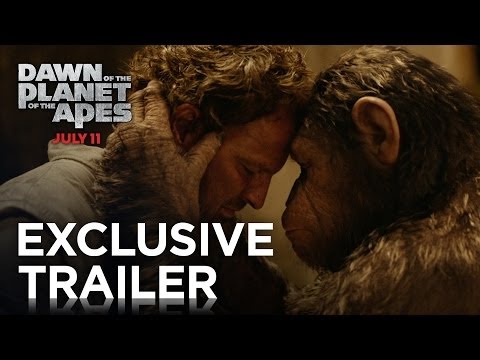 As Caesar says: 'Home. Family. Future'. It is sure to be very exciting to see how the future of this franchise will play out. On July 11th, the apes will return.

Are you looking forward to Dawn of the Planet Of The Apes? What do you think of this new trailer? Let us know in the comments below.

<