With the May 22nd release date now almost upon us, MCM Buzz is proud to announce that we have teamed up with 20th Century Fox to give two lucky readers the chance to win a special X-Men: Days of Future Past goodie pack.
Each pack contains a Keyring, a Notebook, a Flying Disc, a T-Shirt and a Phone Charger, all of which are branded with the movie's distinctive logo.
The movie itself is the most ambitious X-Men movie to date and sees Wolverine (Hugh Jackman) travel back to the past in a bid to stop an apocalyptic future that decimates all of mutant kind from coming to pass. On the way we will see X-Men from both the past and present movie versions of the franchise as well as new characters such as Bolivar Trask (played by Game of Thones star Peter Dinklage), Havok (Lucas Til),  Quicksilver (Evan Peters) and Bishop (Omar Sy) to name a few.
To be one of the two winners of this great prize all you have to do is e-mail your answer to the question below along with your name and address to info@mcmbuzz.com before 6pm on Thursday 29th May.
Question:
Magneto is the master of what?
A)    Ceremonies for Brighton County Council
B)    Fairie type Pokemon
C)    Magnetism
D)    Chocolate covered Hob Nobs
So if you think you know the answer to the question above then get emailing, as after all you have to be in it to win it. In the meantime, to whet your appetite for this action packed mutant movie masterpiece, click play below to watch the trailer for X-Men: Days of Future Past.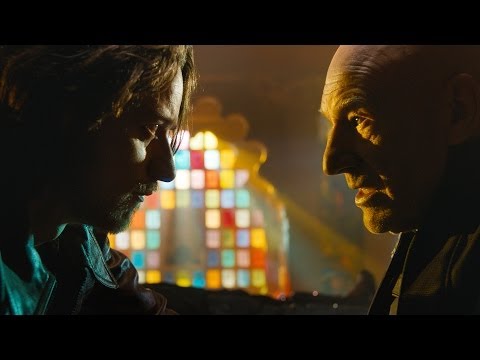 Usual terms and conditions apply, see below for details.

Closing date for entries is Thursday29th May 6pm BST. One entry per person. No purchase necessary. There is no cash substitute. The prize is an X-Men: Days of Future Past Goodie bag. The promoter reserves the right to substitute the prize(s) for one of equal or greater value. The winning entrants will be selected by an independent judge from all completed entries and notified by e-mail. Two attempts to contact the winner will be made after which a new winner will be drawn. Up to two winners will be contacted before the prize is forsaken. Winners that respond after that period will not be eligible for the prize if a second winner has been contacted. The promoter reserves the right to withdraw the competition if it is felt that it has been in any way fraudulently entered. The judge's decision is final and no correspondence will be entered into. By accepting the prize the winners agree to be bound by these terms and conditions. The winner's name and location will be available by sending a SAE marked Win an X-Men: Days of Future Past goodie pack to the promoter BEFORE 21st December 2014 at MCM Buzz, PO Box 38727, London E10 7YH, UK. This competition is not open to MCM Expo crew or family.

<