Described by co-curator Paul Gravett as "a landmark for comics in the UK", The British Library's current exhibition – Comics Unmasked: Art and Anarchy in the UK – is the largest and most ambitious undertaking of its kind ever to be held in this country.
Thanks in part to an ongoing explosion of comic-book movie adaptations, along with the DIY possibilities opened up by the internet, the popularity of the comic as a medium has soared in recent years, with comics now reaching a huge range of new and often surprising audiences. Yet despite this renewed interest in the form, the British tradition of comic-book storytelling is often overshadowed by its American counterpart, with Hollywood now having firmly staked its claim to the world of superheroes. One of the goals of Comics Unmasked, then, is to redress this balance by illuminating Britain's rich and diverse comics history, from Victorian Penny Dreadfuls and satirical Punch cartoons, to the superhero stories and fantasy worlds to which we've become more accustomed today.
Throughout the exhibition, visitors are confronted with the medium's powerful potential, which has historically allowed people to express things that they might not otherwise have been able to say or show, whether because of censorship, legal or ethical concerns, or simply because of the physical limitations of other media. Separated into different sections, Comics Unmasked explores comics' vital but often uneasy relationship with politics and social issues through the ages, demonstrating how artists and writers have used their work to a huge variety of ends.
From the very beginning, the exhibition establishes comics' long-held position on the fringes of society, with a mix of positive and negative quotations posted up on a wall near the entrance. Dating back as far as the 18th century, the less enthusiastic among the comments come from critics as far apart as William Wordsworth and Julie Burchill. For decades, disgust and distrust have been constant companions to the comic-book world which, undeterred by its critics, has persisted in providing a platform for politically, sexually and artistically subversive content.
Back in 1954, the UK's first ever comics exhibition was organised by the National Union of Teachers, not as a celebration, but rather as a condemnation of "shocking" publications like Vault of Horror and Tales from the Crypt, not dissimilar in their appeal to the schlocky horror movies that became popular around the same time. The NUT's warnings against allowing children to read such material proved successful: the following year, lobbyists succeeded in pushing through a Harmful Publications Act which censored what the then Lord Chancellor described as "a clear and obvious immoral evil". Still earlier, people were speaking out against similar literature in the late 19th century: for example, one journalist decried the Illustrated Police News (featuring graphic representations of crime scenes) for "minister[ing] to the morbid craving of the uneducated for the horrible and repulsive".
At least as much as gore and violence though, it was often the sexual and even pornographic content of certain comics that so rattled the establishment, and in Comics Unmasked, the British Library unflinchingly displays an interesting range of the offending work. Separated from the main exhibition by a curved, red wall is a section containing comic-book erotica. While earlier pieces will no doubt seem tame to modern readers, there's plenty in here that yet retains its power to turn heads, whether it's Viv Berger's seedy Rupert the Bear pastiche or Bob Monkhouse's penis-shaped alien attackers.
It's not all shock for shock's own sake though: moving and important messages are put across in work like Raymond Briggs's scathing When the Wind Blows (1982), a devastating critique of the government's Cold War nuclear policy, or It Don't Come Easy, a poignant 1977 strip that sees the romance of an encounter between two enamoured young men destroyed by the rigmarole of quizzing each other to ensure they're not going to get themselves arrested (Are you over 21? Are you in the armed forces? Are the curtains closed?). Racism, police corruption, consumerist capitalism and misogyny all come under fire in various ways, whether through open attack or more indirectly – and perhaps more progressively – through positive representation. One interesting example of the latter is the placing of an early Suffragette illustration alongside an extract from Mary Talbot's recent Sally Heathcote graphic novel.
Much like other media, comics have evolved over time, with many of those emerging in the 60s tackling war, racism and the burgeoning sexual revolution, while those from the 70s like Action's Kids Rule O.K! begin to reflect the anarchic energy and youth rebellion embodied by punk music. In the 80s, writers and artists take on Thatcherism, and gradually begin to move into darker, post-punk and post-modern territory, with the likes of Neil Gaiman, Grant Morrison and Alan Moore serving up strange and compelling concoctions that combine the political, sexual and fantastic elements of their predecessors with a new sense of spirituality and an interest in mythology, all the while testing limits of the form. One visually striking example of this ground-breaking, boundary-pushing work sees characters jump in and out of separated panels, drawn from multiple perspectives to create the illusion of movement through a multi-dimensional universe.
It's interesting to note that the oldest exhibit on display is actually a medieval text which, far from inducing moral panic, actually served to promote established values by illustrating a religious story, demonstrating both how far comics have come over the years and the near-limitlessness of their potential uses. In stark contrast to this, dummies dressed up in Guy Fawkes masks are placed throughout the exhibition, reminding us of how Alan Moore's appropriation of the iconic Gunpowder Plotter in V for Vendetta has come to symbolise the revolutionary ideals of a whole generation.
Comics Unmasked is a brilliant, wide-ranging and in-depth exhibition that showcases the power of art and literature to explore, shock, criticise and celebrate the culture we live in. Whether you're a die-hard comics enthusiast or more of a casual reader, the story presented here is sure to fascinate, inspire and surprise. If you can, it's worth avoiding weekends and bank holidays as these can be pretty packed out, and you may find yourself queuing in certain sections. That said, it's well worth the wait, even if you're not able to make it on a weekday.
Comics Unmasked: Art and Anarchy in the UK runs at The British Library until Tuesday 19th August. Tickets are priced at £9.50 with £5 concessions available. Entry is free for those aged under 18. A free, digital anthology app is also available to download via iTunes, and a series of related events will also be running alongside the exhibition which you can find details of here.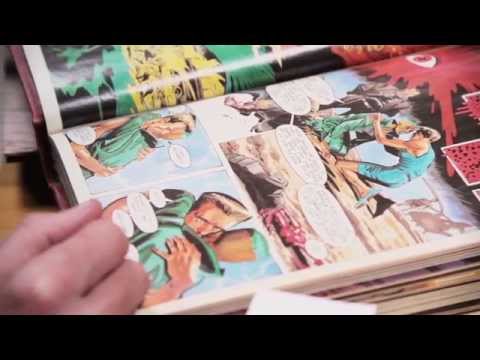 <