Citizens of Panem!
President Snow addresses Panem in his official address 'Together As One', brought to you via Capitol TV. After the fateful disaster of the third Quarter Quell in The Hunger Games: Catching Fire, a sonorous President Snow (Donald Sutherland) reminds the people of Panem that there is strength in unity, reward for necessary sacrifice and maximum punishment for those that disobey the system.
The promotional video for The Hunger Games: Mockingjay – Part 1 also features the stoic Peeta Mellark (Josh Hutcherson) suited in a pristine white palette to match the whitewashed backdrop alongside the intimidatingly-throned Snow.
The Hunger Games: Mockingjay – Part 1 will see the aftermath of the Quarter Quell and Panem as Katniss Everdeen (Jennifer Lawrence) finds herself and her friends in the thought-to-be-lost District 13. Under the guidance of  rebellion leader President Coin (Julianne Moore), Katniss must fight to save Peeta and unite a nation torn by fear. As the third film in The Hunger Games series, it will also star Liam Hemsworth, the late Philip Seymour Hoffman, Woody Harrelson and Elizabeth Banks.
Check out 'Together As One' below. Panem Today, Panem Tomorrow, Panem Forever.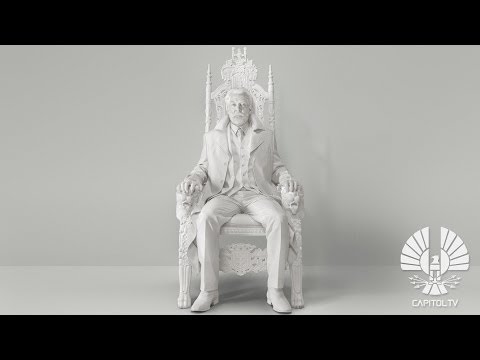 The Hunger Games: Mockingjay – Part 1 will be out in UK cinemas on 21 November.


<