One of the crowning achievements of the Despicable Me franchise has been the minions, the hilarious little bumbling yellow creatures, who are always loyal to their villain masters. It was announced that due to the success of Despicable Me 2 in 2013, the minions would be receiving their own spin-off film. Now Illumination Entertainment has released the first official trailer for the film.
On the surface, it's hard to see how a feature film about the minions could ever work, but this trailer actually shows that not only could it work, but it could be a great animated film. The trailer reveals that the minions have been around on Earth longer than us, and are always in search to serve some of history's most ambitious villains (their previous masters include a T. Rex, Dracula and Napoleon, and they seem to accidentally get destroyed by the minions).
After accidentally destroying one too many villains, the minions decide to isolate themselves from the world and hope to start a new life in the Antarctica. However, cut to the 1960s and the lack of a villain to serve has driven the yellow creatures into depression. The trailer then introduces the film's protagonist, Kevin, a minion filled with pride as he comes up with a plan to find a new villain to serve. He is joined by two supporting characters: Stuart, a teenage minion who seems to have a craving for bananas, and Bob, a scared little minion who is nervous of adventures and journeys. Their search leads them to New York City and a female super-villain, Scarlett Overkill (Sandra Bullock).
The trailer does a good job of showing that the film will include memorable characters, funny humour, a touch of heart (the clip where Kevin supports a scared Bob is actually quite touching) and of course more minions! Check out the trailer below: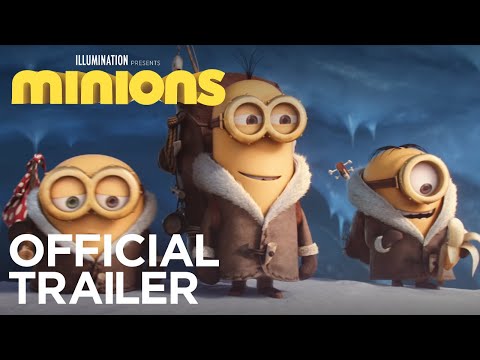 Minions was originally due for release in December 2014, however the release date has now been pushed back to June 26, 2015 for the UK.

Minions is written by Brian Lynch, directed by Pierre Coffin & Kyle Balda, and produced by Chris Meledandri & Janet Healeys. It stars Sandra Bullock (Gravity),  Michael Keaton (Batman, Toy Story 3), Jon Hamm (Mad Men), and Steve Coogan (Alan Partridge: Alpha Papa).

Are you looking forward to Minions? What do you think of the trailer? Let us know in the comments below.

<