After waiting patiently, the world has at last been graced with the official teaser trailer for Star Wars Episode VII: The Force Awakens. The big question on everyone's minds is 'was the trailer worth the wait?' The answer is a definite yes!
"There has been an awakening" a dark, eerie voice explains over the trailer's opening shot of a desert (which is likely to be Tatooine). A Stormtrooper then pops into shot, but this particular trooper is shown without his helmet. It's John Boyega! Little is known abou the character he will be playing, but this one shot could mean anything: He could be a rouge Stormtrooper or a Rebel Soldier undercover.
This is followed by many more shots of the desert, including a rolling droid and the unknown character played by Daisy Ridley, riding a speeder across the planet's sand.
Though the trailer may be short at 88 seconds and unfortunately Luke Skywalker (Mark  Hamill) Princess Leia (Carrie Fisher) and Han Solo (Harrison Ford) are nowhere to be seen, it does boast some spectacular imagery and cinematography including X-Wing spaceships soaring over a crystal clear lake and an army of Stormtroopers preparing for battle.
One of the best shots of the trailer comes in the form of a mysterious Sith Lord, standing in a dark forest, wielding a brand new lightsaber with a cross-guard. It seems that he is about to engage in a duel. But with who? No one knows yet.
However, the trailer's biggest highlight is the glorious shot of the Millennium Falcon gliding over the sands of the desert planet, fighting off a number of TIE Fighters while the breathtaking Star Wars theme by John Williams plays in the background. Shots like this make the trailer truly spectacular.
There seems to be a very sinister tone as well. Throughout the trailer, the mysterious voice seems to be discussing in detail the merits of both the light and dark sides of the force. This could be the voice of the film's villain, and with dialogue and discussions like that, the character is sure to stand out.
It may not reveal much about the story, but there's enough impressive imagery and effects to get any Star Wars fan's blood pumping.
The trailer can be viewed down below and on ITunes: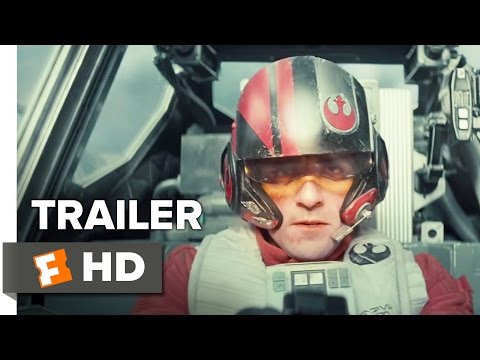 Star Wars Episode VII: The Force Awakens is produced by Walt Disney Pictures, Lucasfilm, and Bad Robot Productions. It will be written by Lawrence Kasdan and J.J. Abrams, produced by Kathleen Kennedy, Abrams, and Bryan Burk and will be distributed by Walt Disney Studios Motion Pictures on December 18th 2015.

What do you think of the official trailer for The Force Awakens? Let us know in the comments below.

Source: ITunes

<