YA fiction fans will no doubt be flocking to the Vidfest stage at this May's MCM London Comic Con for a special appearance by the cast and creators of Night School: the Web Series, a gripping drama based on CJ Daugherty's international best-selling novel series.
Night School follows the story of Allie Sheridan (Jessica Sargent) and her fellow boarders at Cimmeria Academy, a highly exclusive private school harbouring a dark secret. Night School itself is a Bullingdon Club-style society at the heart of the school, whose members are mentored and trained for future roles running the country. Things take a darker turn when certain Night School members become involved in a series of murders at the school, sparking a strange kind of civil war between teachers, students and the society. Unsure of who to trust, Allie finds herself caught in a love triangle between Sylvain Cassell (Louis Clarke-Clare) and Carter West (Campbell Challis), two of Night School's most powerful members.
Said Daugherty,
"I am barraged with emails and messages every single day from fans asking for a TV series or film of Night School. This was a way to give them what they want and to be at the cutting edge of something brand new."
The landmark project is Britain's first web show to be inspired by a book series, and has been developed by Daugherty with her husband, BAFTA-nominated director Jack Jewers, and produced by Trailermade Films. Rather than acting as a direct adaptation of the books, Night School: the Web Series consists of six original stories set in the same world, which aim to explore similarly complex emotional and political issues. The six episodes were released weekly during December 2014 and January 2015, and to date, the YouTube channel has received around half a million views.
Said Jack Jewers,
"YouTube now accounts for more than 50% of everything we watch. It's the future and the present. This is the way we will all be watching television soon. America is already way ahead of us in transforming books into web series and I'm really excited that we get to be the first people to launch a web series based on a book in the UK."
Attending this May's convention will be creators CJ Daugherty and Jack Jewers, along with actors Jessica Sargent, Campbell Challis, Grace Parry (Katie Gilmore) and Jodie Hirst (Jo Arringford). Tickets for the MCM London Comic Con are are available to purchase now – book early for a chance to meet the talented Night School team.
If you've yet to catch up with this groundbreaking new show, the full series is available to watch on CJ Daugherty's YouTube Channel. Check out the trailer below for a taste of what to expect.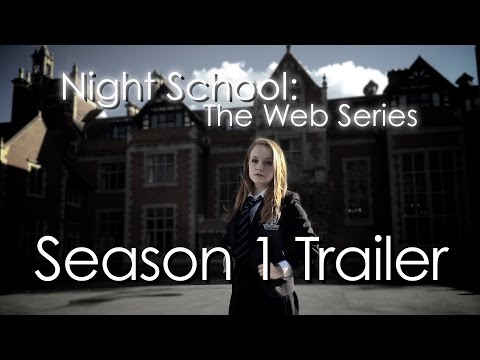 <