Back in January, MCM Buzz reported that literary web show and internet phenomenon Classic Alice was raising money for a second series: now, five months later, it's finally here, with Season Two set to start next Tuesday (9th June)!
For those who've yet to see it, Classic Alice tells the tale of literature lover Alice Rackham, an English student at the prestigious Valeton University. When the dedicated and studious Alice receives a B- grade on a poetry paper, with comments accusing her of sterile and disengaged analysis, she resolves to gain an emotional insight into the books she reads by following in the footsteps of their impulsive and passionate characters.
The show's first season was a huge success, gaining a massive online fanbase which raised an incredible $56,445 to get a second series made. Building on the legacy of innovative literary web series like The Lizzie Bennet Diaries and Emma Approved, Classic Alice unfolds its story across multiple platforms, combining podcasts, forums, and a vast array of social media sites with its YouTube core to create an intricate and immersive online world for viewers to enjoy.
Thanks to the success of its Indiegogo funding campaign, Season Two will see the show take its first steps outside as Alice engages with a whole new set of literary classics, beginning with Henry David Thoreau's Walden. New cast members will be introduced, including Dyana Liu (Tower Prep), Leilani Marie Smith (Uncle P), Paul Todd (City Homicide) and Jonathan Emerson (Fresh Off the Boat, The Young & the Restless), while an interactive literary magazine will offer fans an exciting and creative way to be a part of the story. Familiar faces will also return, as Alice is reunited with fellow students Andrew Prichard (Tony Noto), Cara Graves (Elise Cantu), Ewan McBay (Chris O'Brien) and Marcus (James Brent Isaacs).
In a Season Two prequel video released last week, mysterious cameraman Nathan catches Alice off-guard while packing, revealing that there's something important she's not telling Andrew….curiouser and curiouser.
What's Alice's big secret? You'll just have to tune in on Tuesday to find out! In the meantime, you can check out the prequel below, or recap on Season One here. You can also read our review of the first season here.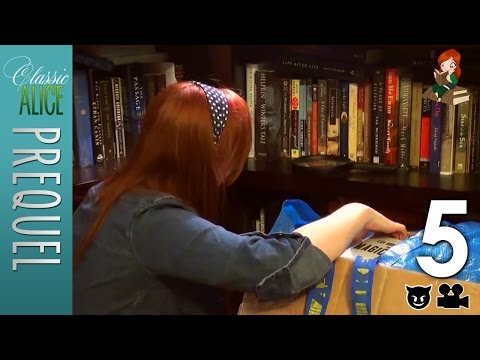 Classic Alice, Season Two will air on YouTube on Tuesday 9th June at 5pm BST.

<