Directed by Nick Hurran
Written By Steven Moffat
Starring Matt Smith, Karen Gillan and Arthur Darvill
For those of you who may have not been in tune with the current time… and relative dimensions in space, Series 7 of Doctor Who premiered recently on BBC One with Asylum of the Daleks.
After a lot of hype going into this season with news of co-stars Karen Gillan and Arthur Darvill leaving this series and a new companion surfacing for the Christmas Special, there were many eyes watching to see if this episode was going to be a hit. And it is with great pleasure to confirm that this first episode of the new series hasn't disappointed and has certainly delivered by the TARDIS-full.
Written by current show-runner Steven Moffat, Asylum of the Daleks is the first in a line of high-concept Doctor Who episodes, a string of which promises to do well to entertain and amaze this season.
Matt Smith returns as the eleventh incarnation of the Doctor alongside companions Amy and Rory Pond (Gillan and Darvill). The episode begins on unfamiliar ground, the Doctor walking into a trap and the Ponds having difficulties in their personal life. One thing leads to another and the trio find themselves before a parliament of Daleks. But instead of the Daleks characteristically trying to exterminate the Doctor, they need his help. Help from something they are afraid of.
Themselves.
The Doctor, Amy and Rory are beamed onto the titular asylum of the Daleks – a place that holds the most terrifying and insane Daleks around. The trio seek to solve the Dalek parliaments's problem with the asylum while also finding a way to escape before the Daleks solve their Doctor problem too. And on top of all of that the Doctor seeks to try and solve Amy and Rory's relationship problems as well. All in a day's work for the Doctor.
Asylum of the Daleks is a very strong opening episode. As one should expect from Moffat, there are going to be some twists, turns, and a surprise or two, all of which are masterfully executed. Even the idea of opening a Doctor Who series with a Dalek episode is a nice twist to the formula.
Some interesting dynamics are introduced in this episode, especially concerning the Doctor. Always the one to help a person in need he rises to the call as expected. Smith is still on form as a Doctor who can be both fun and seriously dangerous: the perfect Doctor paradigm.
A minor gripe is with the Ponds. Amy and Rory are great characters with an interesting relationship, with both themselves and the Doctor, but this episode they fell rather flat. The Doctor makes good on his promise with fixing the couple's relationship, but it felt like in this episode they could have been lifted out to a degree. This is very much more a tale concerning the Doctor, the Daleks and everything about himself and his relationship with his greatest enemies.
All in all, the episode is paced perfectly. The dialogue is snappy and humorous and the entire episode concept is executed as well as one would hope along with a reveal or two that's both strong, but familiar. It's a nice return to form with Doctor Who and the bar has been set for Series 7. Amy and Rory's presence and dynamic in this episode take it down a peg or two, but it still makes for some of the strongest television of recent weeks.
With this episode rising to a very effective finish and with the preview of next week's episode already looking promising, it feels as though the only way is up with this new series of Doctor Who. Bring it on. Now if only we had a TARDIS to travel to next Saturday already…
Asylum of the Daleks premiered on BBC One on Saturday 1st September 2012. It is available on BBC iPlayer, and Doctor Who will return next Saturday 8th September 2012 with 'Dinosaurs on a Spaceship'.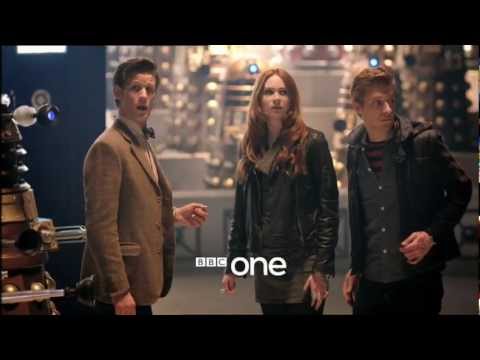 <