Directed by Saul Metzstein
Written by Chris Chibnall
Starring Matt Smith, Karen Gillan and Arthur Darvill
This was the episode of Doctor Who I was most excited for in this coming season. The Doctor and his gang of misfits (complete with Queen Nefertiti of Ancient Egypt)… on a spaceship… with dinosaurs. It's like a 9-year-old's dream come true.
Dinosaurs on a Spaceship, episode two in the current season of Doctor Who, is a rip-roaring light-hearted (for the most part) adventure that brings together a nice ensemble that supports the idea that almost everyone has appeared on this show.
After receiving a message of grave importance – namely a spaceship on a crash-course with Earth – The Doctor decides to assemble a little gang (he's never had one of those) to help him. This gang consists of his current companions Amy and Rory (Karen Gillan and Arthur Darvill), Queen Nefertiti of Ancient Egypt (Riann Steele), Edwardian huntsman John Riddell (Rupert Graves) and… Rory's dad (Mark Williams).
With a cast like that you can't go wrong. It just gets better once you find our antagonist for the episode, Solomon (David Bradley), a… collector of sorts, a collector who has found a very lucrative cargo. Dinosaurs. Lots of dinosaurs.
As if that wasn't enough there's also Solomon's henchmen – two robots who act as comic relief (if there wasn't enough) voiced by a very recognisable comedy duo; the icing on the cake to an already perfectly cast episode.
Dinosaurs on a Spaceship is a nice gear-change from the series opener Asylum of the Daleks. Whereas Asylum threw the trio in peril and offered a few twists and turns, Dinosaurs is a lot less urgent and dangerous, opting to play with the characters brought together and give both a great comedic tone and a generally enjoyable ride. Despite the lack in urgency and pressure on the trio, with a title like Dinosaurs on a Spaceship, the episode doesn't exactly ignore its high-concept.
The episode delivers well on the dinosaurs, including your go-to raptor scene, pterodactyls and some brilliant implementation of a stegosaurus – a dinosaur you just know the Doctor wouldn't resist trying to ride. This isn't the first time the Doctor has come across dinosaurs, but thankfully technology has evolved enough so the dinosaurs aren't seen as quite so laughable. In fact they are pretty well done.
Other than the dinosaurs, the real gem in this episode is the supporting cast. Especially Mark Williams as Rory's dad. He enjoys a nice little character-arc as Rory's father, who isn't exactly one for travel, being accidentally beamed into the TARDIS with Amy and Rory. And he shines here, though there was a line or two that might miss (namely in discussion to what's in his trousers. Yup, it's that sort of episode) but for the most part he delivers a lot of the funny moments and even comes in use more than once.
Rupert Graves also shines as the sexist huntsman John Riddell, smartly put together with Amy and Nefertiti for most of the episode, offering some great back and forth. And innuendo.
Solomon (Bradley) also gives a nice antagonist to the Doctor, testing him and pushing him just a little too much. The Doctor is such a playful, happy, child-like man in this current incarnation, but as always… you don't want to see him when you push him just a little too far.
Matt Smith has another great episode as the Doctor, playing a nice range of emotions exhibited both in his speech and in his expressions. Some of his best moments are when they are exhibited without saying a single word.
But once again, Amy and Rory just aren't really feeling it so far this season. They do well enough to facilitate getting the much better character of the episode – Rory's dad – into the action, and Rory has a great father/son connection, but the married couple could have easily been cut in some way from this episode.
It's not even a case of too many chefs spoiling the broth; it's just a case of it excelling well enough without them. Amy could have easily been cut from the Nefertiti/John Riddell dynamic, and the Doctor and Rory's dad could have had an adventure together perfectly.
Overall the episode does not disappoint on the idea. You get your spaceship, you get your dinosaurs. You get your fantastic ensemble cast and you get comic relief everywhere. This is very much on the 'fun' scale of Doctor Who episodes and a nice change of gears from last week's Asylum of the Daleks.
It's a step in the right direction, surpassing its predecessor. It still isn't perfection, but it is an indication on how well series seven will build towards. It shall certainly be interesting what speed Doctor Who is going to reach once it hits its mid-series finale before its Christmas special, but is it going to make us love the Ponds enough to see them go by then?
Dinosaurs on a Spaceship premiered on BBC One on Saturday 8th September 2012. It is available on BBC iPlayer, and Doctor Who will return next Saturday 15th September 2012 with 'A Town Called Mercy'.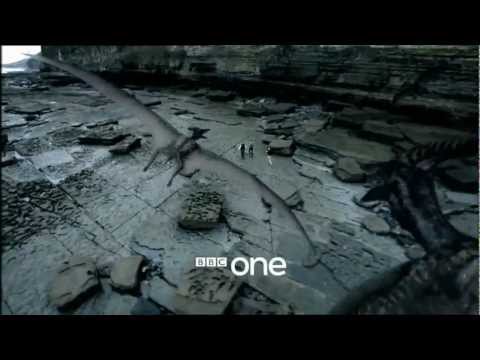 <