Directed by Saul Metzstein
Written By Toby Whithouse
Starring Matt Smith, Karen Gillan and Arthur Darvill
The Stetson is back on the Doctor's head in this week's episode of Doctor Who, one that is a western-themed romp with a sci-fi twist. A Town Called Mercy jumps right into the action with the Doctor (Matt Smith) and his companions Amy and Rory Pond (Karen Gillan and Arthur Darvill) standing at the entrance of the titular town called Mercy.
After a slight miscalculation of desired destination, the place they find themselves in almost instantly intrigues the Doctor, with electricity existing in the town years before it should in history. The ominous 'Keep Out' sign present at the entrance details that the Doctor couldn't possibly ignore the chance to investigate.
Of course once again this is a case where you should be careful what you wish for, as the Doctor is brought to face a deadly Gunslinger (Andrew Brooke), a cyborg hunting down a Kahler Jex (Adrian Scarborough), a man who holds a mirror up to the Doctor to an extent that doesn't gel well with the Time Lord.
Evoking several tropes found in westerns including horseback riding, six-shooters and duels at high noon, A Town Called Mercy does well to continue Series 7's high-concept movie-poster idea episodes, however overall this episode just feels rather flat.
It never feels too overly western, which in part is excused by the sci-fi nature of the programme, however even when scenes are meant to explicitly evoke the feeling of the wild west, Mercy doesn't quite deliver. The Gunslinger is a great villain, a deadly cyborg clad in western garb including boots that evoke the recognisable sound of spurs, but the general tone doesn't seem to fully hit outside of highlights like that.
Scarborough is a highlight as Jex, a man with a hidden past and many faces, much like that of the Doctor. Scarborough does well to antagonise the Doctor, pushing him to his limits while also doing well to showcase the impact Jex's own demons has on his character.
It seems to be a broken record of a note this series, but there have been two constants in Series 7: Matt Smith and the Doctor in general have been fantastic while Amy and Rory's characters still don't feel as if they have much of an impact, especially Rory in this episode. He could easily be plucked completely out of the episode, pushed to the side to a degree while Amy has a slightly boosted role in comparison.
Amy does have a couple of moments in this episode that impact on the story, but it still just isn't enough. At one point she comments about how the Doctor is when he travels alone, but it feels like the show would work better if he did at this point, his companions being criminally underused and underwritten. The Ponds have potential leading up to their departure but the clock is ticking for them to actually pick it up.
The Doctor on the other hand is still brilliant. He has the knack of having his little comic moments (and a knack of karate chopping things of late), but the real meat and potatoes of his performance this episode is when the Doctor is pushed to the edge. As the episode develops, the more pressure builds up behind the Doctor before finally it all overflows, Smith giving a great performance of a Doctor who can't take it anymore.
It would however have been even more powerful and effective if the story played more with the Doctor's own personal history, specifically calling out a Doctor that had been to places mentioned in the dialogue, echoing how the Doctor's decisions and actions have shaped him into who he has become and what he has left.
A thing that is certainly worth noting is the cinematography. This is certainly the best looking of the episodes so far this season, both with location and general technical prowess. There are great uses of lighting, camera placement and focus pulls that add to the direction of the episode. In tandem with this some of the editing and music are effective enough to add to the pacing and tone of the scenes.
Overall however, A Town Called Mercy isn't a stand out episode in any particular way. The middle episode in this first half of Series 7 of Doctor Who just feels like the awkward middle child so far. There is nothing particularly of note in any which way. It coasts with a few highlights here and there. The western motif is addressed but underused, the antagonists are interesting but not anything to talk about, the Doctor is fantastic but his companions and their dynamic still haven't been utilised enough.
It is a very average episode, which is tragic in a way, as one would hope that this series would deliver on each of the high-concept episodes. The writing just hasn't been up to snuff to what Doctor Who is capable of reaching. My mantra still however remains. There's always next week. 
A Town Called Mercy premiered on BBC One on Saturday 15th September 2012. It is available on BBC iPlayer, and Doctor Who will return next Saturday 22nd September 2012 with 'The Power of Three'.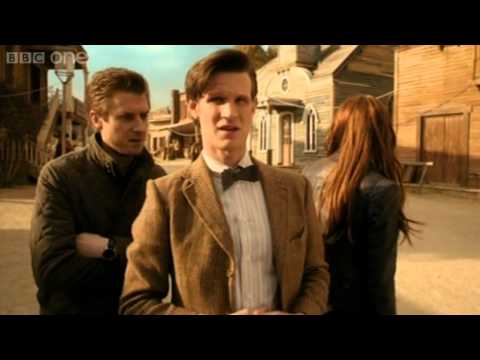 <