WARNING: The following post contains links to graphic content in a horror movie context. For those of you who are not fans of gore and the tone of content that goes with it, this article is not for you. Please proceed with caution.
The problem with horror is that a lot of the greatest films of the genre were made a couple of decades ago. Of course there are always new steps with films as The Blair Witch Project, Saw and Paranormal Activity, but the general trend of recent years is that of the remake.
Friday the 13th, The Omen, Halloween and loads more have all gone through the remake treatment, leaving very few franchises untouched. The most recent of these is that of the Evil Dead and before you adjust your sets, wait around, because this one looks interesting.
Sam Raimi (who later went on to direct the Tobey Maguire Spider-Man movies and Drag Me To Hell) and Bruce Campbell, along with a notorious production schedule, brought the world the original The Evil Dead in 1981. The movie went down in infamy for its lashings of gore, interesting cinematography, controversial scenes and the debut of lead actor Bruce Campbell – King of the B-Movie – to audiences. Not to mention the fact it was one of the 'Video Nasty' titles of the 1980s in the UK, with footage cut due to its content, eventually released uncut in the UK as early as 2001.
The first of a trilogy of increasingly comedic and quotable movies in the horror genre, it certainly stood out from the rest of its peers. It put Bruce Campbell on the map and it showed some of the ingenious cinematography Sam Raimi was capable of directing, evoking an original style that worked so well.
And so it comes to this, the remake of the duo's debut effort together. On first impressions… it actually looks very good. Which is a relief, as most remakes of well-known horror franchises miss rather than hit, but the remake of The Evil Dead looks very promising.
Directed by Fede Alvarez, the film follows a very similar plot: A group of twenty-somethings travel to a remote cabin where their curiosity gets the better of them. As time progresses, one-by-one the group begin to get possessed by demons living in the woods, awoken by their reading of the Book of the Dead.
You can view the trailer below.
WARNING: This is a trailer for a horror movie, so it goes without saying that there may be some scenes that may disturb some viewers. The Evil Dead movies are notorious for their use of gore, and even with this just being a trailer it is apparent that the remake is following this pattern.
Watch at your own discretion.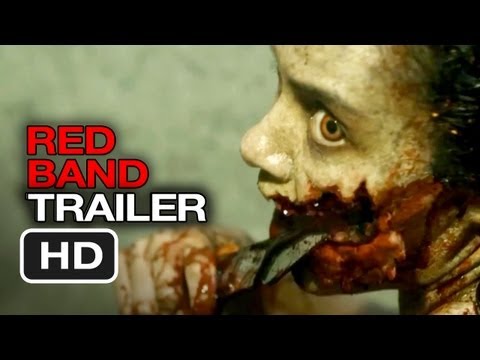 As you can see, pretty cool stuff. Pretty gory stuff as well by the indication of the trailer. It has been said that this remake isn't going to be a straight copy and paste of the original, instead using a lot of the similar set-up but some aspects being changed, such as Bruce Campbell's character Ash Williams in the original not being a character in this version. That being said, the trailer evokes a lot of key elements from the original trilogy, such as the camera movement through the woods and the demonic tree attacking one of the characters.

It ultimately ends up working very well in selling the movie, changing it up just enough to keep it fresh while also grounding it in the roots of the original. It should also be noted that the first of The Evil Dead trilogy was a lot more sinister than the sequels, creating a lot of tension over just straight-up splatter-fests and quote-a-thons. 

But don't take my word for it, Bruce Campbell is actually one of the producers on the remake and has been involved throughout the entire process of production. He recently gave an interview to Machinima about the remake, where he reveals that "the movie is not funny…the movie is old-fashioned, retro horror."

Evil Dead certainly looks like a horror movie remake to check out for a change, with a fresh script, director and cast that looks like will be loyal enough to the source material to appease purists, but with its own spin to make it new, original and very entertaining.

Look out for Evil Dead next year, set for a 12 April 2013 release in the UK.  Fede Alvarez directs a screenplay written by himself, Sam Raimi, Diablo Cody and Rodo Sayagues and has a cast led by Jane Levy and Shiloh Fernandez.

<