The Incredible Burt Wonderstone is a true celebration of all that made us treasure the impossibilities of the universe. From the first magician you saw who could pull out a coin from behind your ear, or stick playing cards to the ceiling, as children we were astounded by the simple thought that anything could be possible. And while The Incredible Burt Wonderstone sometimes takes you along the lines of the somewhat cringeworthy and twisted dark humour that doesn't always reflect the story's values, at its core is a comedy of a charming and innocently sweet nature that leaves you laughing, smiling and feeling for the characters on screen.
Burt Wonderstone (Steve Carell) and Anton Marvelton (Steve Buscemi) are friends who began their 'Magical Friendship' as children who then became Las Vegas magical superstars. Performing within the theatre at Bally's Casino, everything seems ideal as these two childhood friends have all the fame and stardom they want. But behind the scenes, Burt and Anton have grown to despise each other, which mostly stems from Burt's egomania. The vain, tango-tanned magician's world begins to disappear like a poorly executed trick when his ticket sales plunge and audiences crowd around the eccentric street magician, Steve Gray (Jim Carrey). With nothing more to lose he works with his former assistant Jane (Olivia Wilde) to rediscover his love of magic, something which starts off as a lost cause until he meets the person who inspired his love of illusions; Rance Holloway (Alan Arkin).
Overall the film has a familiar base formula: selfish person learns the value of humility and Jonathan Goldstein and John Francis Daley's script doesn't attempt to fix the tried and tested method. They make use and take full advantage of their exuberant setting and colourful characters and this in turn is amplified by the high calibre of big screen stars in the film. A strong emotional beat carries through and Carell delivers the comforting warmth we've seen before from his previous roles. He really embraces the broad spectrum of comedy available, which helps the film flow through its many varying levels of emotion. Carell doesn't have to overplay Burt as the fake tan and velvet suits speak volumes for the Incredible Wonderstone's persona, and because of that you are not sitting in your chair feeling overpowered with intense character stereotyping. It's a big outspoken and egocentric role, something that one could imagine clashing with Carrey's high octane and over zealous comedy.
However, Carrey, who is perfectly utilised in a supporting role, becomes the living parody (to a somewhat alarming level of authenticity) of David Blaine and Criss Angel, two showmen more commonly known as the "trickless magicians". Carrey employs a familiar over-the-top persona which is reminiscent of the characters that catapulted him to stardom back in the early 1990s. But apart from one scene involving a rather disturbing card trick, you don't feel squeamish at his extreme street act, as co-stars Carell, Buscemi, Wilde and Arkin all help keep a balanced and varying level of humour that has you giggling and crying with laughter throughout. Because of this incredible balance, we never lose scope of Burt's emotional arc through this simple style of story. Goldstein and Daley ensure that these heavy hitting big screen names don't clash, but bounce off each other to make an unmissable show. 
In the end, the story isn't over complicated, nor a dramatic plot twist finale styled brainteaser. It has you interested, engaged and laughing hard. Barely a moment passed within the screening without an uproar of laughter from the subtle jokes and quips to the perfectly executed punchlines. It really does reveal a joy of the dated, sweet and innocent magical talent, thrown in stark contrast with the modern day's perception of magicians. Gray's show known as "Brain Rapist" really provides a crisp contrast to the rehearsed predictable shows that Burt & Anton provide. But no matter what, as an audience we feel emotionally connected to the performers and we go to be entertained, and by that measure, The Incredible Burt Wonderstone is a spot on piece of smoke and mirrors that will have you laughing throughout. Watch the trailer below to have a true taster of what you can see on the big screen; and yes it's surprising to think that Steve Gray is Jim Carrey!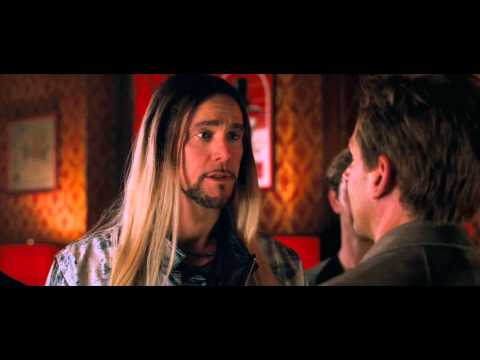 The Incredible Burt Wonderstone is screening across the UK on 15 March. There's no reason to miss out on a fantastic night of laughs, so keep your Friday night free and zap yourself down to the cinema.

<