With just a week left now until the broadcast of the Doctor Who 50th anniversary special, The Day of the Doctor, a Steven Moffat-penned preview clip was aired on BBC Children in Need last night.
In addition to an all-important fez, lots of broken glass and some paintings that seem to mirror the ravaged, desolate landscapes in which we've already seen John Hurt, the clip features a first glimpse of the interaction between tenth and eleventh Doctors David Tennant and Matt Smith, as well as introducing the Brigadier's daughter, Kate Stewart, as portrayed by Jemma Redgrave.
If you're watching very, very carefully, you might also notice the skirt of an elaborate golden gown behind David Tennant when he first appears. Most likely, this dress belongs to Queen Elizabeth I, set to be portrayed in The Day of the Doctor by Gavin & Stacey's Joanna Page.
The clip is now available to watch online, and you can check it out below. For more information on Children in Need or to donate, visit www.bbc.co.uk/pudsey.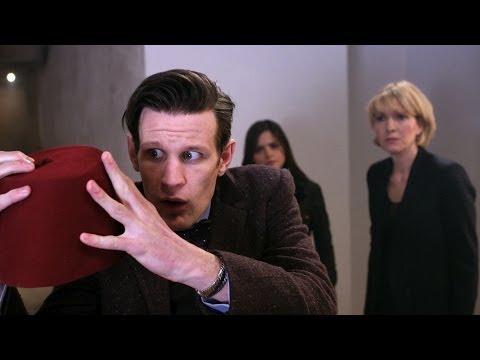 Source: BBC

<