Initially born out of a joke made by fifth Doctor Peter Davison that if he wasn't asked to be part of the 50th anniversary special he would "jolly well make [his] own", The Five(ish) Doctors Reboot is probably one of the best things to ever happen to Doctor Who.
Packed full of quotes, references, in-jokes and music from various eras of the show, and featuring perfectly-timed comic performances from Peter Davison, Colin Baker and Sylvester McCoy, The Five(ish) Doctors (known on Twitter as The Day of the Fish Doctor) is an absolute treat for fans of all generations and regenerations.
At 30-minutes long, the episode is tight and fast-paced, following the story of the three Classic Doctors and their desperate attempts to get a part in the 50th anniversary special. Throughout the show, they try all kinds of tactics to get a look-in on The Day of the Doctor, including leaving a barrage of voicemail messages for Steven Moffat and making use of their "contacts" to sneak into the Cardiff studio. A scene filmed outside Television Centre also explains the Classic Doctors protest we reported on back in September.
In addition to Doctors five, six and seven, the episode also stars an array of Doctor Who actors and writers past and present, including John Barrowman, Steven Moffat, Paul McGann, Nicholas Briggs, David Tennant, Georgia Moffett and former showrunner Russell T. Davies, as well as featuring a message from Tom Baker, a look behind-the-scenes of The Hobbit in New Zealand, a trip around the Doctor Who Experience, and some archive footage from the original Five Doctors episode. And of course, what would a Doctor Who special be without some monsters, silly costumes, a TARDIS or two, and a lot of running down corridors?
Leaving audiences roaring with laughter throughout, Davison's writing and directing skills prove to be utterly superb, so much so that it's a wonder he hasn't ventured further into these aspects of television before. It's an excellent piece of work, both poignant and hilarious, and doing everything that a great Who episode should do. Though the Doctors themselves may have come to wonder why in the universe they were doing this, fans around the world will definitely be glad they did, and we can only hope this won't be the last script that Davison writes.
So, did the Doctors succeed in their mission? You'll just have to watch to find out!
Click here to watch the full episode on BBC iplayer, or check out the trailer below.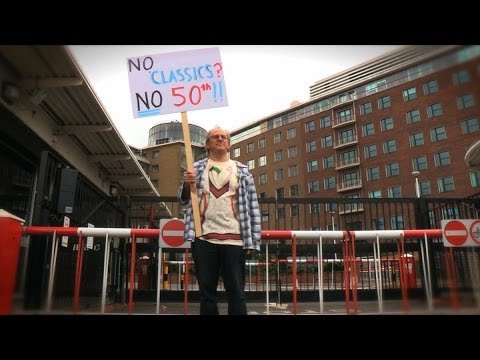 <