As always, YouTube sensation TomSka drew in a packed Vidfest stage to talk about what's next for his channel, and even a few other things on the horizon. An excited crowd of all ages eagerly snatched up the remaining seats to listen intently to the Internet icon and be entertained by the videos he had to show.
TomSka opened the talk by thanking the rest of his group for helping bring together another successful and engaging Vidfest for everyone before delving into his nerves behind what he had in store for everyone. He opened his session as he normally does at Vidfest, showcasing the most recent video he has put out in order to help introduce the uninitiated to what he's all about as a filmmaker.
This time the video was HORSE, which was a comical video of next to no dialogue involving fan-favourite character Mrs Johnson, a person in a dress and a horse mask who turns out lives a rather sinister and darkly comic life. You can see it for yourself below!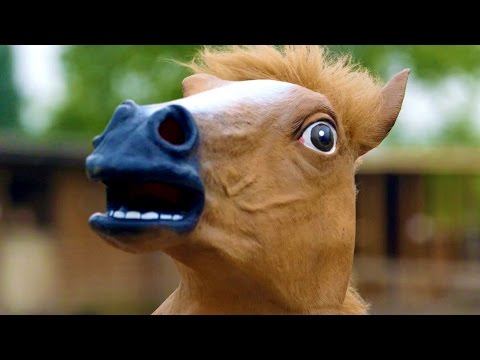 Despite this, it drew in huge amounts of laughs and applause, as with most of TomSka's projects. Not one to let things simmer down and settle, Tom then dropped another video on the audience – one that won't even see the internet for a couple of weeks.

He introduced it a little beforehand, explaining that it spawned from an idea he had for asdfmovie 4, an instalment of his popular animated series, but then took it completely out of that project and put it in a new one. He said that he decided to make the sketch after going, "You know what, I'm going to take this sketch and I'm going to make it! And I rented out my local chip shop, and we made this video…and it's really dumb. And I'm just…stalling…because you're going to see it. And, yeah, I hope you enjoy it. It's called Takeout Robbery and it could still never be released…so…take it away!"

Tom needn't worry, because the sketch was on form with the best of his stuff. Very silly, funny, plays with expectations, and is much like a cartoon born of real life, Takeaway Robbery is everything you want from a TomSka sketch, and hopefully it will see the light of day. Because who knew a robbery over the phone could make for such hilarity.

After the two videos, TomSka went straight into questions from the audience. Some of the questions asked about small details in his videos, while others inspired interesting and/or funny answers, such as detailing how he wore the horse mask and dress for his latest video and how it wasn't entirely practical. "I apologise to anyone here involved in filming the dance scene, because when I finished I bent down to pick something up and nothing was left to the imagination. Nothing," he recalled, to much laughter from the audience.

A later question garnered some interesting information. On the discussion of his "Scrap'd Week", where Tom uploaded videos that were unfinished or deemed unfit for uploading on YouTube successfully, he began to expand by saying, "I have so many videos that have never been uploaded. It's awful. I scrap about half or at least a third of all the videos I make because they're just not funny, or I just don't like them. I'm my biggest critic, surprisingly, and I think that's for the best."

Giving advice to amateur film directors, TomSka said to "Just embrace the fact that you're going to be shit. You just are. No-one starts out like, 'Ooh, I've got a camera! I am great.' You've got to make a bad video, and then the next video hopefully you'll learn from that and then hopefully it will be less bad, so my secret is to A) Embrace the fact you're going to start awful and B) Try at least one new thing every time. Like, 'Oh in this video instead of working with just myself I'm going to work with me and a friend.' Or, 'In this video I'm going to try using a light.' Just try one new thing every time and you will just gradually get better. It took me 13 years to get where I am now and I still make tons of mistakes and I will still make tons more. Just start and suck, and then suck less. And then…blow…that's the opposite of suck…right?…That's not better. Next question!"

The last few questions asked about small things, like whether he could do any animal impressions and things like which of his characters would he make a feature length movie out of – to which Tom explained that once upon a time he was offered the chance to make an asdfmovie feature film, which Tom then turned down because of just how hard it would be to do, given that it takes him around nine months to make just 2 minutes of asdfmovie. Tom ended the talk with a teaser of something new.

Something different.

A video game.

A very short teaser trailer in a classic 80s/90s arcade game style, TomSka revealed "Katatak", a game coming this summer that is no doubt inspired by videos like HOLY SHIT CATS, another fan-favourite TomSka video. No more information for it was given, but as with every project TomSka is working on, people will be waiting.

Excited. Hyped. Pumped up.

Come on, bring on the summer!

<