Having observed certain power shifts within the television industry throughout the 80s and 90s, self-proclaimed "die-hard TV geeks" Des Doyle, John Wallace and Ryan Patrick McGuffey hit upon the idea of creating a film that would document the rise of the TV showrunner. Widespread interest in the topic enabled them to fund the project through Kickstarter, and at this May's MCM London Comic Con, the creators of the now completed Showrunners documentary presented a fascinated audience with some clips from the film, as well as discussing the process of making it.
Following a trailer which introduced the film, director Des Doyle began the discussion by describing how he had "grown up on a steady diet of US TV shows, which always seemed bigger and brighter" than their British counterparts, full of exciting ideas and special effects. In the 90s, with shows like Buffy the Vampire Slayer, he began to get interested in "how the nature of serialised television was changing", with writers and creators beginning to develop their own following. He highlighted Lost as the series that had really served as a turning point, its creators being invited onto talk shows and even surpassing its actors in terms of celebrity status.
The first clip from the film featured Steven S. DeKnight (Spartacus, Daredevil), Janet Tamaro (Rizzoli & Isles), Ronald D. Moore (Battlestar Galactica) and Joss Whedon (Buffy the Vampire Slayer, Dollhouse, Firefly) discussing this phenomenon. Describing fan conventions as something like a "rock concert" for showrunners, Steven S. DeKnight put the growing interest in writers down to audiences' increasing understanding of how television shows are made. Ronald D. Moore expanded on this, explaining that showrunners, much more than actors or other crew members, tend to have answers to the kinds of questions fans want to ask, making them perfect guests for TV chat shows or special events.
According to Doyle, this interest from fans has in turn led to new expectations from showrunners on the part of networks and production companies. Script writers are now expected to have a public image and engage with viewers directly – some are even contractually obliged, for example, to be active on social media.
The second clip was about dealing with actors and the problems this can cause for showrunners. Despite fans' new-found interest in the creatives behind the scenes, when it comes to disputes between them and any famous cast members, the network will still usually back the actor. This is particularly problematic in long-running American shows, where a team will have to work together for years. This means that any tension amongst members of the cast and crew can cause real problems in the long run, and must be resolved quickly.
The third clip showed J. J. Abrams (Alias), Jane Espenson (Caprica, Once Upon A Time) and Steven S. DeKnight discussing the power and perils of social media. Abrams described the internet as having made TV more like live theatre because it enables those involved to see the applause and laughter online almost in real time. Jane Espenson was particularly positive about Twitter, enjoying the chance to interact directly with fans of her work, while Steven S. DeKnight seemed a little more wary, particularly of replying to negative feedback. He described one occasion when he had responded to an unpleasant comment and eventually found himself in a "yelling match" with a 12 year old.
After the clip, Doyle said that, at the time they had spoken to Joss Whedon, the day after The Avengers was released, he had been reluctant to engage with fans on social media, partly out of a fear of giving too much away. Since then, however, he's been completely converted, and now loves Twitter as much as his Buffy co-writer Jane Espenson.
The final clip explored the issue of ratings, and how the internet has left the primary means of testing television series' popularity a little outdated. Doyle believes this will probably change dramatically very soon, with other metrics such as Twitter responses and subscriptions being taken into account alongside or instead of TV viewing figures. Interestingly, the showrunners' own attitudes towards their ratings were divided. While some writers are inclined to follow them carefully, in the clip, Mike Kelley (Revenge) warned of the dangers of losing control of things that are within your grasp (i.e. writing better scripts) if you focus too much on things that aren't (who is watching your show). "All I can do is tell a good story," he concluded.
A Q&A session followed, with questions about who and what is included in the film, as well as about the featured showrunners themselves. The first question was about how the film-makers had managed to get hold of such busy people to take part in their documentary.
"We chased them to the men's room," laughed Ryan Patrick McGuffey.
"He's only half joking!" said Doyle, explaining that the loos are often the only place where showrunners aren't being followed and harassed by frantic assistants and goodness knows who else. In some cases, it took them as long as a year to pin people down for filming. Despite this, McGuffey went on to say, people were generally very keen to be a part of the project, and once word had started to spread, showrunners actually began approaching them. The initial "dream list" of 8-10 showrunners expanded massively, with 20-30 contributors appearing in the final film, and many more left out due to time and scheduling constraints.
Interestingly, among the major players not included is Game of Thrones' David Benioff, despite the fact that the documentary team were based right next to the GoT and True Blood offices.
"We could see all the writers tearing their hair out through the window," said Doyle.
It was actually coming out of the writers' offices for Fringe when they chanced to stumble across Joss Whedon, the day after the release of The Avengers. Though he'd always been high on their list, their attempts to get hold of him had for months all been to no avail. When they finally found themselves face-to-face with him, however, they weren't quite sure of what to do.
"We knew we only had one shot at it and we didn't want to screw it up," said McGuffey. "I think in the end I just went up to him and said, 'I love you,' and he said, 'All right, I'll do it.'"
Next, they were asked which of the writers they had spoken to had been their favourite.
"Oh, choose a star from the heavens!" McGuffey gushed.
"They were all great," Doyle agreed. "And really candid. Maybe we lulled them into a false sense of security by being Irish…"
Nevertheless, he did pick out Damon Lindelof (Lost) as having been especially interesting to talk to after his experience of working on Lost and being effectively "hated off Twitter." Lindelof's involvement had also proved useful in persuading other people to take part.
Asked about whether they had spoken to the showrunners of any animation series, Doyle explained that they'd decided very early on to focus on drama and comedy series as a way of focusing the story they wanted to tell, although there were animation and even reality TV creatives who expressed an interest in their film.
Asked if they had noticed any common personality traits amongst the showrunners they had spoken to, Doyle said that the most important thing for a showrunner was to "have a singular vision and to be able to convey that vision to thirteen other people, which is not as easy as it sounds." As opposed to any other kinds of writers, it's important for showrunners to be able to "stamp their authority" on things very quickly, and to answer any questions about their ideas. With a background in writing for feature films, Andrew W. Marlowe had struggled with the transition to TV showrunning when he began working on Castle, finding managing a group of other writers a little overwhelming.
The differences between film and television work don't end here, however, and one of the subjects that cropped up was the relative status of writers and directors on the big and small screens. Doyle explained that the level of creative control now afforded to TV writers is partly the result of the evolution of television in the 80s and 90s. While directors have always been, to some extent, "hired hands" in the world of television, it is traditionally producers who are in charge. Over time, however, it became apparent that most writers worked better when left to themselves, rather than being micro-managed by somebody else, which ultimately led to a shift in power away from producers.
There are also some key differences to be aware of between the the creation of television shows in the US and the UK. While in Britain, series tend to be shorter, with one writer producing all of the scripts independently, in America, head writers must act as managers of a whole team of other people, with many more demands made of them by their networks and studios. This does have its advantages, though: Doyle referred to an article in which Chris Chibnall (Broadchurch, Law and Order: UK) talked about the power conferred by the term "showrunner", which seems to instantly impress people much more than "writer". Outside of Doctor Who, it's still not something in common usage here: Russell T. Davies was amongst the first British scriptwriters to adopt the title.
With one of the project's Kickstarter backers in the audience, the team's experience of crowdfunding and, more broadly, its growing popularity as a means of fundraising, was the subject of the next question. One of the advantages of crowdfunding, according to producer John Wallace, is that, along with an active social media presence, it helps to encourage audience interaction and gather feedback. It also means that you can decide very quickly whether or not a planned project is worthwhile based on the response it gets. In many ways, it's much better to be supported by people who are excited about what you're creating, than to simply rely on disinterested businessmen to fund your work.
Finally, asked to give a few words of advice to aspiring filmmakers, McGuffey instructed emerging creatives to, "Take care of each other. Every movie that gets made is a miracle, whether it's good or bad, and no one can do it on their own." He also recommended that people, "Stop trying to make your own thing before you're ready….Surround yourself with people who are smarter than you and learn from them."
Des Doyle, meanwhile, said that the real key to making a great film is to, "Love your idea and be absolutely committed to it."
Though specific dates have yet to be set, Showrunners will hopefully be released by the end of the year. You can find out more about the film at www.showrunnersthemovie.com, or by following @showrunnersfilm on Twitter or liking their Facebook page. From September, you'll also be able to purchase Tara Bennett's book accompaniment, Showrunners: How to Run a Hit TV Show, published by Titan Books.
Check out the movie trailer below: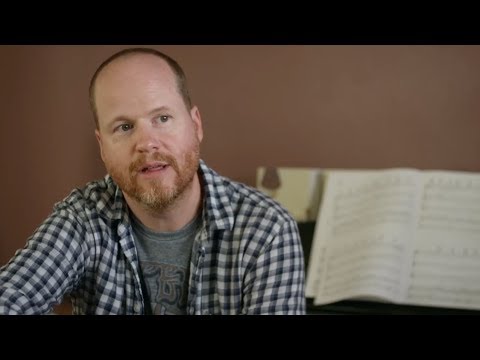 Photographs by Caitlin Jenkins.

<