A policeman enters an abandoned building where he attempts to make sense of the strange sights and sounds he is confronted with. Written by Erin Sullivan and directed by Matthew Amys, mystery thriller Recurrence is a short but surprising film that is, in the director's own words, difficult to say much about without ruining the story.
Much to the surprise of its creators, the film recently won the award for best short film at Toronto's Buffer Festival, a huge, three-day celebration of the best of web video.
"They didn't even notify us that it had been selected for inclusion!" Matthew laughed, describing how friends abroad had sent him photographs from a packed-out screening in the Bell Lightbox cinema, where 12 Years A Slave premiered just over a year ago.
Simple yet effective, Recurrence makes limited use of digital effects, with its creators instead attempting to make something visually appealing with tangible, physical materials and movement. Unusually, the conception of the film actually began with its location, an enticingly eerie disused mill.
"What happens with a lot of people when they start making their own films is that they write really cool scripts but don't realise how hard it is to get the locations for them, so we decided we would start with that instead," said Matthew.
Erin explained that he had first approached her with the idea of making something with a police chase in it, but that they had later scrapped the chase, leaving the police officer character still in place. The officer in question is played by Robert Coble, whom Erin described as a "one-take wonder".
Without giving too much away, this film does some interesting things with the concept of time, which were described as "Twilight Zone-esque" during the Q&A. According to its creators, the mechanics of Recurrence's story were partly inspired by a horror film called Triangle, which both described as a terrible movie but one with some interesting elements.
The complexity of the plot made things a little difficult to shoot, and before filming, a storyboard of sorts was created to map out how things might work on location.
"We had little arrows pointing all over the mill," said Erin. "It was really bad."
Despite this, however, the team managed to successfully pull it off, to the point where they've now received international recognition for their work. So what's next on the cards for these emerging talents now that they're officially award-winners? Well, apparently, their next movie is going to be a car crash…
"We've planned it all around a real car crash which we can control and film," said Matthew. "The story is that there are a group of kids driving a car, and they've been drinking, and they end up killing a man. They decide not to go to the police about it, and then we see all these different stories about how it affects each of them."
For more updates from Matthew and Erin about their work, you can follow them on Twitter @MattAmys and @SullyMuffin. Click play below to see the film for yourself: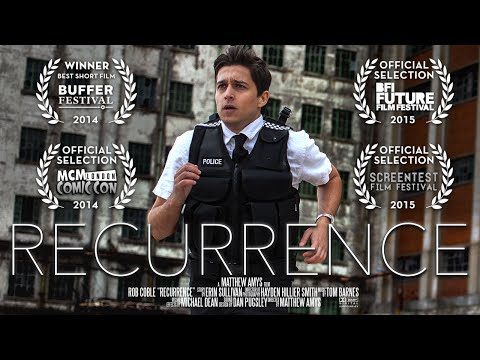 <