Although based on a novel now almost 200 years old, The Lizzie Bennet Diaries is among the most innovative YouTube series to have emerged since the web video format first caught on. Created by screenwriter Bernie Su and one half of Vlog Brothers duo, Hank Green, The Lizzie Bennet Diaries unfolds its story over multiple online platforms, retelling Jane Austen's Pride and Prejudice through a combination of videos, photos and social media posts. Since first airing in 2012, it has picked up thousands of subscribers, won multiple awards and gone on to inspire numerous other vlog-style literary adaptations.
Joining us at this October's MCM London Comic Con for their first ever UK appearance were four members of the team behind the show: co-writers and co-producers Margaret Dunlap and Kate Rorick, as well as actors Mary-Kate Wiles and Maxwell Glick.
The discussion warmed up with a question about why Pemberley Digital had chosen to adapt Pride and Prejudice. Although the initial idea to update classic literature via YouTube came from Hank Green, Margaret Dunlap was able to reveal that his first choice of story had actually been The Diary of Anne Frank.
"Thank goodness we didn't get the rights!" she exclaimed.
Asked about what it had been like to interact with their viewers via social media, the panel replied that none of them had actually been involved in that process.
"We had a separate transmedia team dealing with that," explained Mary Kate Wiles, who plays Lizzie Bennet's younger sister, Lydia. "It was weird seeing our characters tweeting, but the whole thing was such a collaborative effort that we couldn't be possessive about them. It wasn't just the writers and actors creating the characters."
Nevertheless, having high levels of audience interaction woven into the story itself had a huge impact on how both the actors and writers worked.
"It was really demanding!" Wiles went on. "We were all kind of living the story in real time along with our characters and seeing people's reactions as we were doing it. Usually, you'll only get to see people respond to characters after you're no longer playing them, but in this case, I still was Lydia, so it was really hard for me to see people being mean to her. I remember when there was a fight between Lizzie and Lydia and people got very vocal about whose side they were on, and I felt quite defensive and protective of her. On the other hand, it was great for the narrative. People were saying they hated her and calling her a slut, but then she got to address that in a video, which worked really well."
Particularly in the case of Lydia and Maxwell Glick's character, Mr Collins, many of the characters in The Lizzie Bennet Diaries differ significantly from their counterparts in the original novel. Some important developments and even radical transformations took place in the process of transition from page to computer screen, and the panel spoke a little about what had inspired these changes.
"I wanted to bring a likeability to the character," said Glick. "So even though he still has these weird, sort of icky qualities, there's also humour there as well. I guess I wanted to make him seem human, rather than just the stereotypical buffoon he's usually played as."
"As soon as I realised that Max was able to remember a three paragraph-long speech, I knew I had to get him to do that," said Dunlap. "It's amazing he still talks to me at all – especially after we made him suffer for so long in a suit in the baking heat with no air con!"
"I think Lydia was so well liked in this adaptation because we really got a chance to know her," said Kate Rorick.
Whereas in Pride and Prejudice, the story is told almost exclusively from Elizabeth's point of view, as part of The Lizzie Bennet Diaries universe, Lydia begins recording her own vlogs and has her own Twitter account, so we also get the chance to see her perspective on the story. Unusually, towards the end of the series, the character is given room to grow and learn from her mistakes.
Asked to choose a moment that they felt defined the series for them, Mary Kate Wiles instantly replied, "That's easy for me! It would have to be in Episode 87 when Lizzie tells Lydia that she loves her for the first time."
"Mr Collins's defining moment would probably be when he knocked on Lizzie's door before coming in. He actually learned something!" Glick laughed.
"I think I'd have to say Episode 59, when we first get to see Darcy from the torso down," said Rorick.
"For me, I think it would have to be in the pilot, the first time Lizzie looks to the camera and says, 'My name is Lizzie Bennet and this is my life,'" said Dunlap.
The very first episode of the series actually begins with the first line of Pride and Prejudice, not only quoted word-for-word but printed on two sides of a t-shirt. Asked whether there had been any other lines they wished they could have lifted directly from the book in that way, Rorick said that she had tried to get in her favourites whenever she could.
"I love Darcy's speech to Lizzie when he tells her that he loves her," she said, quoting, "'I cannot fix on the hour, or the spot…'"
"My favourite easter egg was how we tried to get the names of every little minor character in somehow," said Dunlap.
"I love Mr Bennet in the novel and in the other adaptations," said Wiles. "There's a bit where he says to Lizzie, 'Your mother will never see you again if you do not marry Mr Collins, and I will never see you again if you do,' which is just great!"
Asked to choose proudest moments for their characters, Glick again mentioned the time when Mr Collins knocks on Lizzie's door, while Wiles chose the the moment when Lydia asks Lizzie for help.
"I think to do that takes a lot of courage," she said. "It's something I didn't do in a similar situation."
Speaking of favourite attributes of particular characters, meanwhile, Glick said that he'd had a lot of fun with all the big words that Mr Collins uses: "I had to use a dictionary sometimes!" he laughed.
Dunlap agreed. "I loved Mr Collins busting out the vocabulary. So yeah, I like showing off with big words is the best answer I can come up with right now."
Rorick, meanwhile, brought up the character of the Bennet sisters' cousin, Mary.
"I liked making Mary Bennet terrible at performing. That was something we translated from the book, but instead of having her playing piano, we had her acting badly in costume."
Finally, the panel were asked whether there were any other novels they'd like to adapt for the web.
"People ask us this all the time but I honestly don't know!" said Wiles, thinking hard. "Maybe David Copperfield. It's been a long time since I read it, but I think it could be interesting."
"I don't know either. Maybe it's because we're actors?" Glick suggested. "I guess maybe The Secret Garden?"
"I'm currently working on a web version of Twelfth Night set on campus," said Dunlap.
"My second favourite novel after Pride and Prejudice is Jane Eyre," said Rorick. "But somebody already did an adaptation of that, called The Autobiography of Jane Eyre. It's great, you should check that out if you haven't seen it!"
If you've yet to discover The Lizzie Bennet Diaries, you can watch the full series here. You can also check out our footage from the Lizzie Bennet Diaries press conference below, or click here to read our interview with the comic con guests.
Photos by Caitlin Jenkins. Video by Josh McCullough.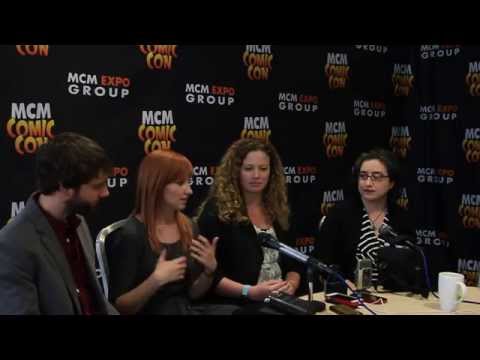 <