Marvel may have the monopoly over the movie world, but DC certainly rule the small screen, and leading the march in the DC TV invasion is the brilliantly addictive, action-packed show Arrow.
Arrow has it all: incredible characters from throughout the DC universe, fantastic storylines and an incredible cast, and this weekend we were lucky enough to have the chance to chat with a few of its key members – Willa Holland (Thea Queen, a.k.a. Speedy), Rila Fukushima (Tatsu, a.k.a. Katana) and Karl Yune (Maseo).
Q – How does it feel to be on one of the best-looking shows on TV and being part of the best-looking cast?
Willa – It feels pretty damn good, there are a lot of beautiful people on our set and our crew are pretty good-looking too.
Q – John Barrowman has returned in Season Three as a regular with a larger role. How has that been for you guys working with him?
Willa – Working with John is probably my favourite part, but probably the crew's least favourite, because that's when we get the least amount of work done.
Karl – For me, he just changes up the energy of the air. It's just great having him on.
Rila – Yeah, we have a lot of fun.
Q – How did you feel about the big reveal at the end, where we see that he has taken on the role of Ra's Al Ghul?
Willa – It's pretty cool getting to play his daughter. Yeah, it was awesome.
Q – Surely that makes you heir to the Daemon, so you could at some point become the next Ra's Al Ghul, yourself?
Willa – I never actually thought of that – wow, bomb dropped! Who knows? All I know is that Thea is trying to figure out what is happening, or not happening, with her since she was resurrected from the Lazarus pit.
Q – Your character has really expanded this season, and obviously you killed Sarah. Now that she is coming back with The Legends Of Tomorrow, might we see Thea go across to that show and see that she is still alive?
Willa – With all of the series that have come out of Arrow such as Flash and now Legends (and there is probably going to be an infinite number more, eventually), there is always that possibility. There are just so many options for what could happen along those lines. I can't say anything for sure, because I don't actually know the answer, but there are always options out there.
Q – How long do you think Arrow can run for and do you think you'll stay for the long haul? Do you think Thea survives?
Willa – I hope she survives. She came back to life once. She finally got in the suit, so that solidifies her a bit, which is nice. I would happily stay and I think everybody would, we are all a happy family.
Q – Arrow is a very action-driven show and very physically demanding. How do you all cope with that?
Willa – We have amazing stunt doubles who are incredible, and insurance clauses written into our contracts so we can't do huge stunts, though some of us want to.
Karl – I think that the action and the physical stuff is the easy part compared to the emotional stuff. After doing a physical scene, I'm good – I could do that all day. But after doing one of those emotionally, psychologically meaty scenes, I'm drained.
Q – You've had a pretty emotional season, with the loss of your son. You and Rila have only really had one season to get us to like your characters – was that tough knowing that you only had one season to form a bond?
Karl – I didn't really think about that, I was just taking it episode by episode. But with every episode we try to give the people our all. They gave us all a lot of very psychologically, mentally and emotionally challenging moments.
Q – Maseo and Tatsu have had a long journey together: how did it feel when you found out that Maseo was to die at the hands of his once-beloved?
Karl – For me, when I heard the news that Maseo was going to die at the hands of Katana, I thought that was brilliant! I'm a huge Shakespeare fan and one of the reasons I love this show is because it parallels the profound depth of Shakespeare. That news was pretty cool.
Rila – I knew it – I had a feeling that this would happen someday, but on the set I was a bit upset before I had to film it.
Q – Is there any probability of you two returning next season? Maseo is dead, but there are always those flashback sequences, and Katana is still alive. Have there been any talks about appearing next season?
Karl – Marc (Guggenheim – Writer) has told me not to make any plans. When he first called me to tell me that Maseo was going to die before the season finale, he just seamed real nervous and apprehensive. I'm just a huge fan of the story and the show, and from the fact that my character had gone on this long, I knew that at some point it was going to happen. When I got the word I thought it was good news for the story and my vacation, but he said, "don't make any plans".
Q – You have all now immersed yourselves in the world of Arrow, but were any of you aware of the characters beforehand?
Willa – I grew up as a bit of DC nerd and I really had a profound appreciation for coming on this show. I had heard drops of the potential of something along the lines of Speedy, Arsenal or Red Arrow from the get go. In the pilot, he called me Speedy, which was a huge Easter egg for myself and all of the DC fans, but three years was a bit of a long time waiting for it to happen. But I understand why it all happened that way, because of the trajectory and building up the origin. She had to go from that point to rock-bottom so they could build her back up again and that is what they have done with almost all of the characters, really.
Q – There have been a tidal wave of comic-book films and TV shows over the last couple of years – do you think there is a danger of superhero overload?
Karl – No.
Willa – There was that period where there were a slew of Batmans and Supermans that were coming out – probably not as many as now -but there was still that period of time and if anything people were like, "Where did they go?" and (lowers her voice) "Why weren't they better?"
Karl – I think if anything, the world in reality needs the morality tales of our superheroes stories. With the things that are going on in the world today, we need that sense of hope and stories about doing the right thing wherever you can, protecting people who need protecting. It's very inspirational for me.
Willa – Yeah, it's a really good message to put out, except for the villains and what they are doing. If you wanted to help and protect people, I'm not saying you should suit up, but people can do that in their own ways. We can stick together and be protective.
Q – Being here at MCM Comic Con, what is it like to see people dressed up like your characters?
Willa – I was actually at a comic con in Atlantic City and for the first time I saw someone cosplaying as Speedy, with my hair cut and everything perfect, the day after the finale aired, which is the first time we see Thea as Speedy. She was right at the back of the panel and I could see her out of the corner of my eye and I just asked her to stand up. I saw her outfit and cried in front of the whole crowd – it was just the coolest thing!
Q – People do become quite obsessed with the outfits.
Willa – It's really cool! I get obsessed with them too – we all do. Her's (pointing to Rila) is insane: that mask is amazing!
Rila – I love our wardrobe lady. She's amazing – she does an incredible job. When I first saw it, I was like, wow!
Willa – She had hers on and I was just trying mine on for the first time and I remember seeing hers and saying, "What? Nooo! Hers is going to be way cooler than mine!"
Q – Is there any specific DC character that you would love to see appear in Arrow?
Willa – Well, we had the Suicide Squad and A.R.G.U.S. and we were going really heavily into that, and then something came down from DC or some higher up, saying that we must cease and desist as they are going to make it into a movie and we can't have anybody spoil the idea. We did get to see that pigtail and the A.R.G.U.S. uniform and hear Harley Quinn shriek, and then I just got ripped away. If we could actually have Harley Quinn it would be amazing, but it's not going to happen.
Q – Will we see more crossover episodes with The Flash?
Willa – I would love that, but the writers like very much to keep us all in the dark. Obviously there wasn't anything of me in Season Three crossing over, but there are a bunch of possibilities now, especially with Legends of Tomorrow and such, so there is always the option. But I didn't even know what my suit looked like until I tried it on.
Q – How far in advance do you get the scripts?
Willa – We get them episode by episode. We start shooting Season Four on July 13th and we haven't seen a script yet.
Q – If the three of you squared off against each other, who would win?
Willa – Not me, I'm the smallest!
Karl – Well, we already know (looking at Rila).
Willa – Come on, of course she wins! She wins in costume and she wins in life.
Q – Where actually is Nanda Parbat, because it only seems to be five minutes outside of Starling City?
Willa – It's just next door. It goes Starling City, the apartment and then Nanda Parbat.
Karl – The League Of Assassins is based in the Middle East somewhere, so I guess that where it is.
Willa – We just have a really fast jet.
Q – There has been a lot of debate recently of the alleged under-representation of female heroes in the Marvel Universe and in some of the DC transfers. I was curious how you felt Arrow is going about redressing that balance?
Willa – One of the things that makes me so honoured to be on this show is my characters arc as an empowered woman. She just gets put down by everybody in her life be it males or females. She honed into something inside herself and is becoming what she wants to be, and it's amazing to be able to represent that. It's the same with a lot of the women on our show. Katie Cassidy's character (Laurel Lance) has gone through so much and now she has become a very strong woman. I have very high hopes for the future and for women becoming more empowered in movies. I think Harley Quinn could be a great one, as this crazy sexy super villain, if they take it away a little from her just being sexy and actually show her being strong and powerful. That's what should be pushed out there far more than her popping up her breasts and showing her ass. Let's actually show her mind or what she is physically capable of!
Q – Its amazing how far the characters have come since the pilot, yet in this season we see a flashback where Olly returns to kill Thea's drug dealer. How was it to play a young Thea again?
Willa – Going back was actually a bit painful for me to be honest. I don't blame people for type-casting, but I just feel that through the trajectory of my career I have always been type-cast as the little sister of somebody, who's also a bitch, or some type of rich girl in a school uniform. That was the exact same uniform I wore in The OC, and it was really weird. So just going back into that I was like, " haven't I proven that this is not who I am, and I should not be represented as that?" But it was nice to be able to show the contrast between the two and also to show everybody the fact that I look way better with short hair than long hair. Well, I think I do anyway!
Q – Both Thea and Katana are pretty serious characters. If they were to take a lighter tone in Season Four, where would you like to see you character go?
Willa – This is all speculation – all I know is that I'm going to be in it – but I hope that we get to see some type of effect from the Lazarus pit. I think that would be awesome, whether it be good or bad. I think people's stories are beginning to come to a cool, calming end almost, where everyone's drama is being resolved, so maybe there is going to be a period of time where we can be happy for a second , then it will probably get ruined in a couple of episodes.
Q – Speedy appeared on a really iconic comic cover where he was caught doing drugs by the Green Arrow and the Green Lantern. How do you prepare knowing that these characters mean a lot to a lot of people?
Willa – It's interesting, because a lot of people come up to me and say, do you realise that Roy Harper is supposed to be Speedy, and I say, "Yeah, that's one take on the character , but there is also another where Mia Dearden is Speedy." So I have done my research, and know what I'm talking about. It's interesting coming from the show because many of our writers wrote for the comics, they love the stories and don't really want us to steer away from them. But it is difficult being on television and being on a network, so you have to try a mix the two together, which means there are certain things that are going to be lost.
Karl – I think that what also makes our heroes really interesting is their vulnerabilities. That's what makes them interesting to watch. I mean how interesting would it be if the hero never faltered? But they are going to have some flaws, which is good for the morality part of the story as a cautionary aspect – showing what not to do and how we can learn from it.
Arrow begins filming its fourth season in July, and will be back on our screens soon. Check out our full video of the Arrow press round table at MCM London Comic Con below.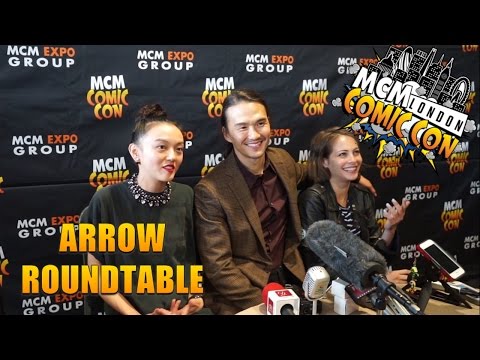 <